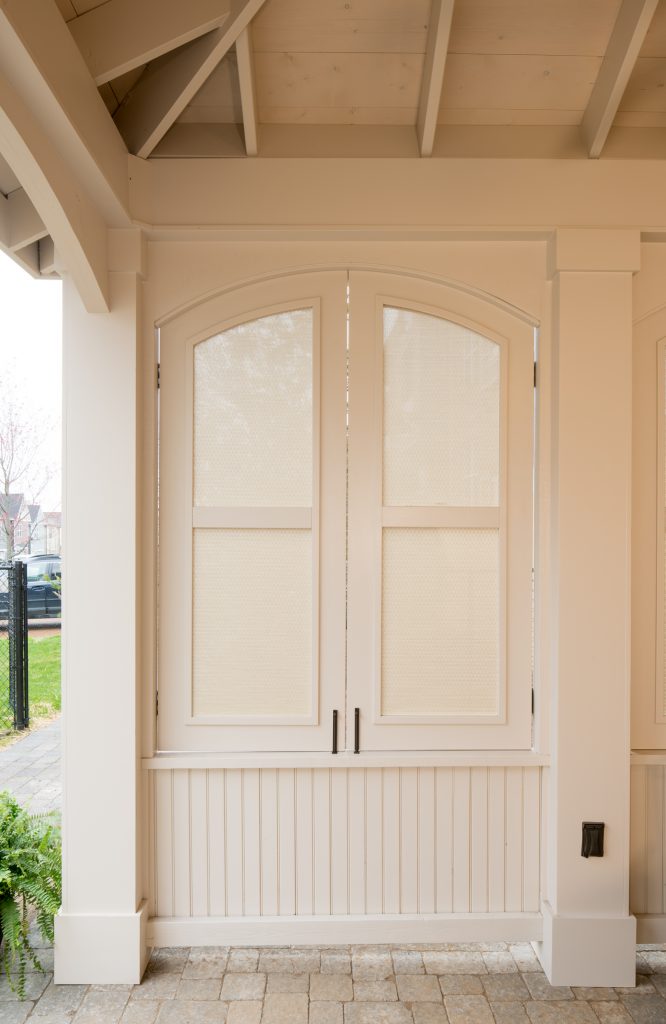 The Porch Company continues to be a leader in porch design innovation, and we want to share another product with you that we've developed — and it has turned out splendidly. We call these "fabric shutters," and they're not only beautiful to look at, they're extremely practical. They're sturdy, waterproof and easy to clean, and they grant you a significant amount of privacy while also allowing some light to pass through and some ventilation as well. It sounds like the best of all worlds, and it really is.
In this photo, you can see we installed two sets of double-door shutters at one end of this marvelous pavilion. The framing portion of each shutter is made of PVC, like the many panels we sell online in The Porch Store and use in our Nashville-area porch designs. There is also a PVC bar running horizontally across the center of each shutter. Above and below that cross piece is the secret ingredient: vinyl-coated sling fabric. Ta-da! There you have it, drum roll please: fabric shutters.
The fabric inset is a versatile woven fabric with vinyl coating, a high-quality sling fabric typically used outdoors for furniture, pillow covers and tablecloths, among many other uses. It's weatherproof and cleans easily with soap and water. It's also flame retardant and infused with Microban antimicrobial protection to inhibit the growth of bacteria, mold and mildew that can create stains and odors and eventually cause the product to deteriorate. What we have done is taken this common material and found a new way to use it, unique to The Porch Company.
The result is a beautiful, sophisticated and very practical set of window shutters. Because the sling fabric comes in so many colors, the design possibilities are endless. Even using a neutral pallette here, where the shutter frame and the fabric insert match in color, the woven fabric adds another dimension of texture to the shutter's design. In terms of utility, because the fabric serves as a weatherproof barrier, the shutters will keep out the rain when closed. The opaque fabric allows some ventilation, but on a day when you want to throw open the shutters and let the breeze flow freely, they open easily to the outside.
If you're familiar with our products, you know we use cellular PVC for our porch panels, deck railings and screen doors instead of wood because it's such a low-maintenance material. PVC doesn't rot, warp or twist like wood. It stands up to the elements and looks like new for years to come. Our PVC products take paint well, so if you want to paint it, just purchase your paint and select a fabric color that works well with the paint color you've chosen.
We've implemented our PVC plus sling fabric innovation in other custom-designed products as well. Pictured here is a gate that we designed to hide the meter boxes for this home — the gas meter and electrical meter. We have also used designs like this to shield HVAC units and hide unsightly garbage cans. In the close-up photo you can see the beautiful juxtaposition of textures with the woven fabric against the gate's smooth PVC frame. Also notice the handsome hardware we selected for the gate shown here.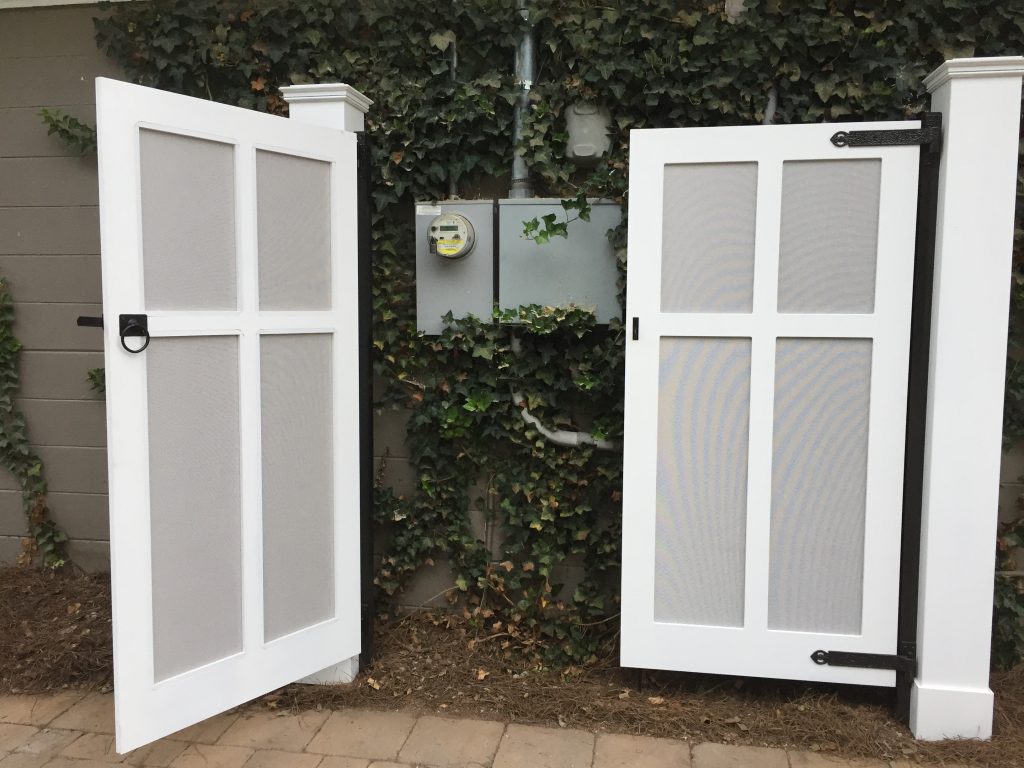 The sling fabric and PVC porch panels combine to make an elegant privacy wall like this one in The Porch Company's design studio (behind the rocking chairs). We use this wall to display several of our porch panel designs. The fabric used here is reminiscent of the texture of jute or seagrass.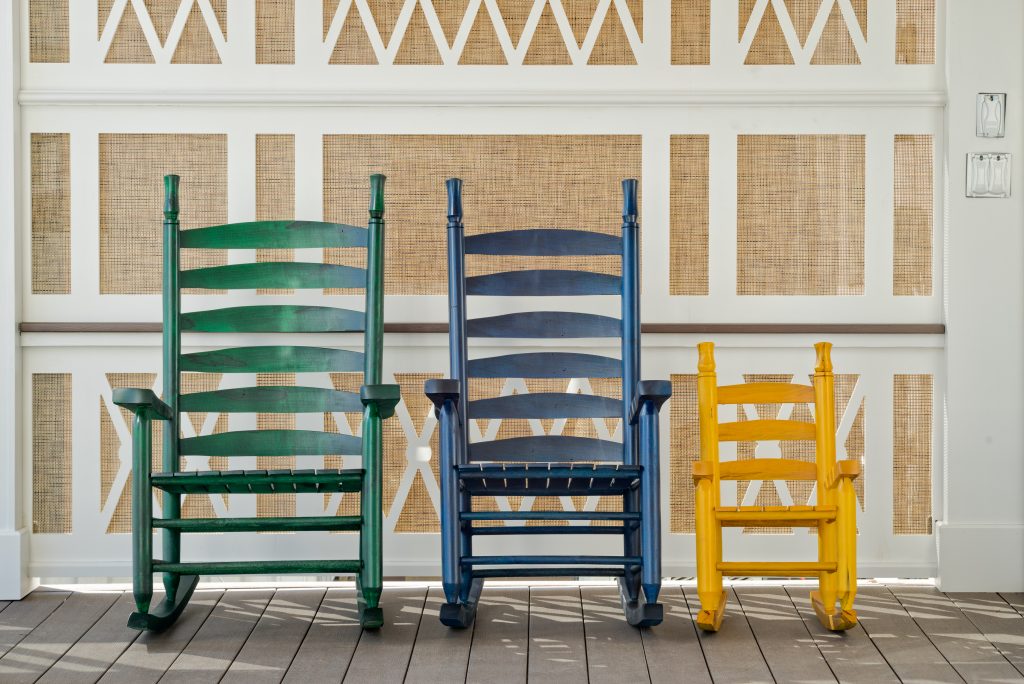 At The Porch Company, we love experimenting and finding new ways to use materials — ways that will benefit our customers in the Nashville area and through our online store.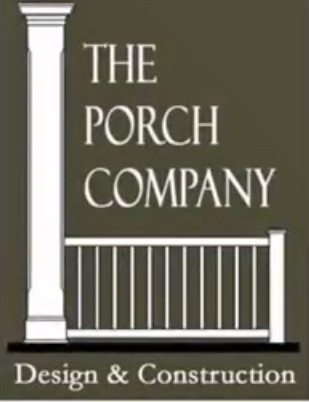 We invite you to look at all of the great porch components available on our e-commerce store. You'll find everything from porch doors and panels to railings and our signature porch bed swings. If you're in the Nashville area, call us at 615-663-2886 or come by our design studio. We look forward to doing business with you.