If the song, "Summertime and the Living is Easy," makes you break out in a sweat, you may need to add a porch to your home. If the high temperatures of summer already have you feeling the "Summertime Blues," don't despair! The Porch Company knows what you need!

Many of us here in Middle Tennessee and throughout the South rely on air conditioning to stay comfortable during summer. If that describes you, but you miss spending time outdoors, we have good news. It's a misconception that all outdoor living spaces are just too hot to enjoy during the summer months. This may be true for open-air, sun-exposed decks and patios. A porch from The Porch Company, however, supplies cool comfort through its amenities for summer enjoyment. With one of our well-designed porches, you won't need to stay cooped up in the AC until fall arrives.
Porches Can Keep You Cool When Temperatures Outside are Hot
Porches are designed specifically to provide shade. Thank goodness for that! When you're outside in direct sunlight, you feel like it's 10-15 degrees warmer than the thermometer indicates. That's because the temperatures given in our weather forecast are measured in the shade. What better reason to add a shade-delivering porch to your home? Not so you can measure the air temps … but so you won't experience that extra 10-15 degrees like you would on a deck or patio.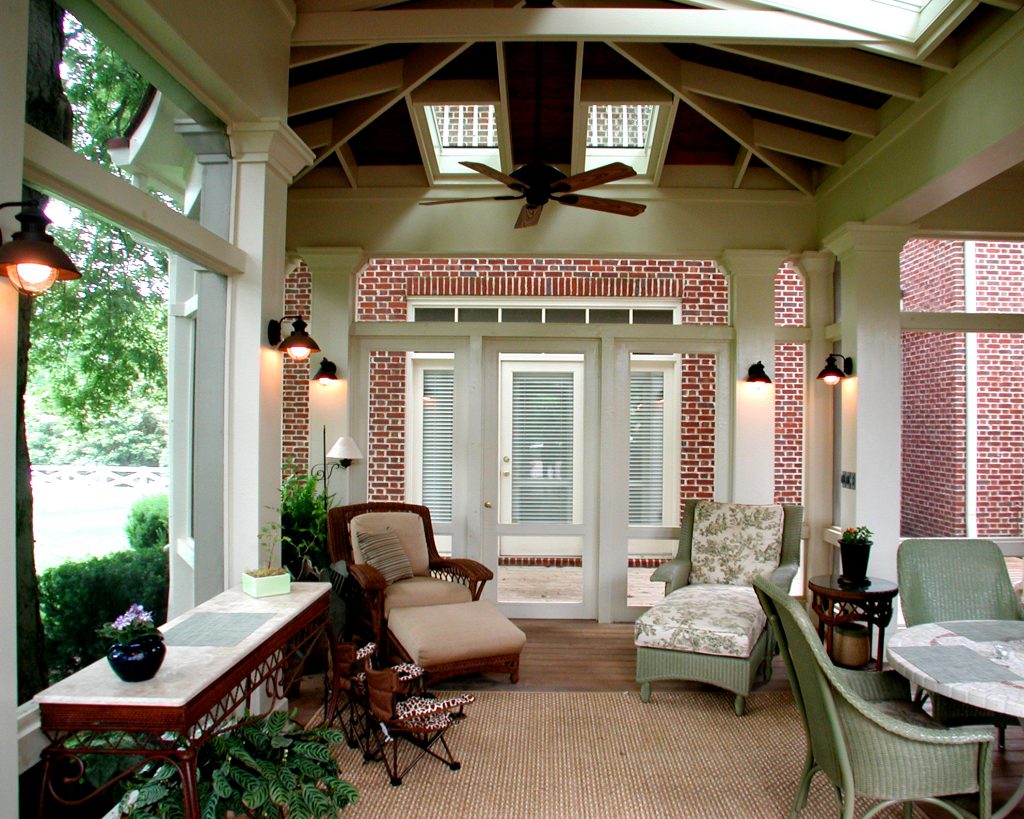 Are open porches and screened porches equal shade providers? It depends. Your porch may be situated in such a way that the sun's rays beam in at an angle during part of the day. If so, a screened porch will feel cooler because the screen will block some of the sun's rays. When The Porch Company designs your screened porch, we take into account the orientation of your porch to the sun.
Southern Porch Owners are Big Fans of Fans!
After a roof for shade, the most important device to keep you cool on your porch is a fan. Ceiling fans do indeed deliver a cool breeze reliably, assisting with ventilation and air circulation on a porch. The Porch Company always designs ceiling fans into our porches, both open and screened porches alike.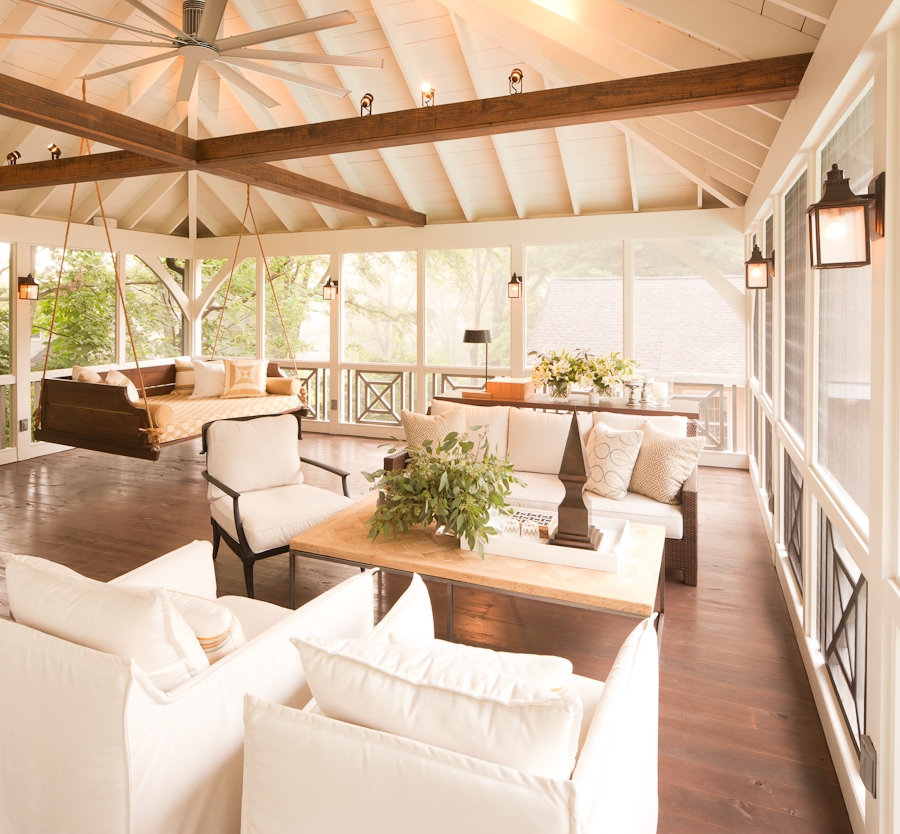 Our electrical plan for your porch design will include the type of ceiling fan we recommend using, fan placement, and how many. How many? A smaller porch may need only one ceiling fan, but a larger porch will likely require more than one for comfort. Many of our porches are considered double screened porches because they have separate dining and living areas. These double porches do need at least two fans. Placement of the fans will depend on the shape and size of your porch.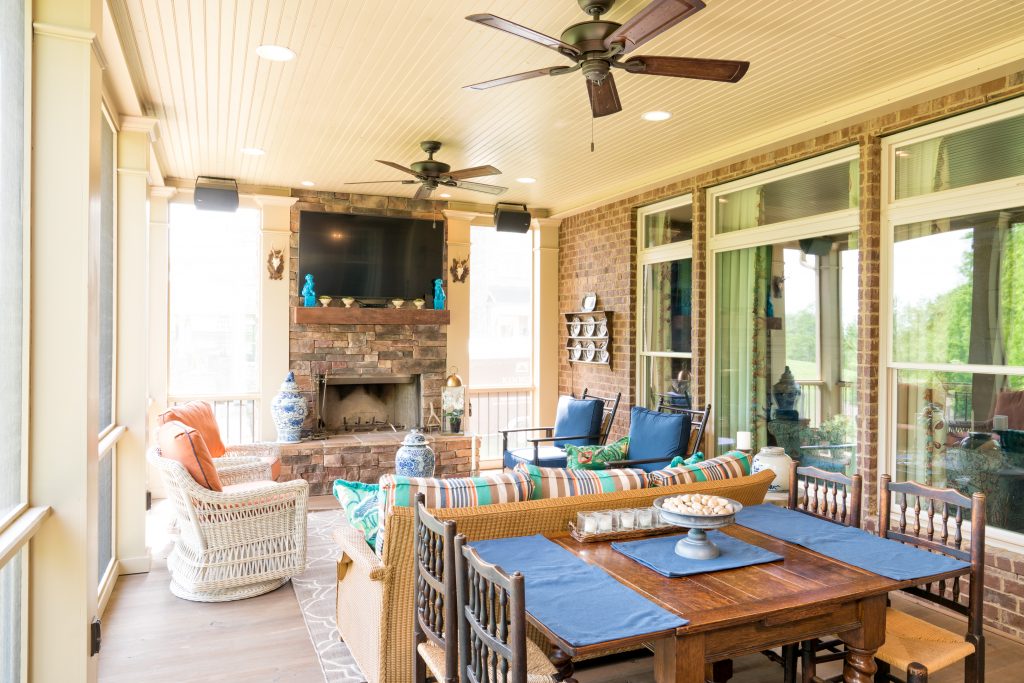 When you work with The Porch Company, we supply the fans we recommend as part of the project. Of course, if a client is adamant about using their own fans, we can accommodate that request!
Can You Have Too Many Fans?
Fans really do become like your best friends on a porch during summer. If ceiling fans don't keep you cool enough – although they frequently do – you can supplement those with an oscillating fan or even a misting fan. There so are many stylish and functional styles and types of fans on the market now. You'll have no shortage of options if you want to purchase additional fans to use on your porch.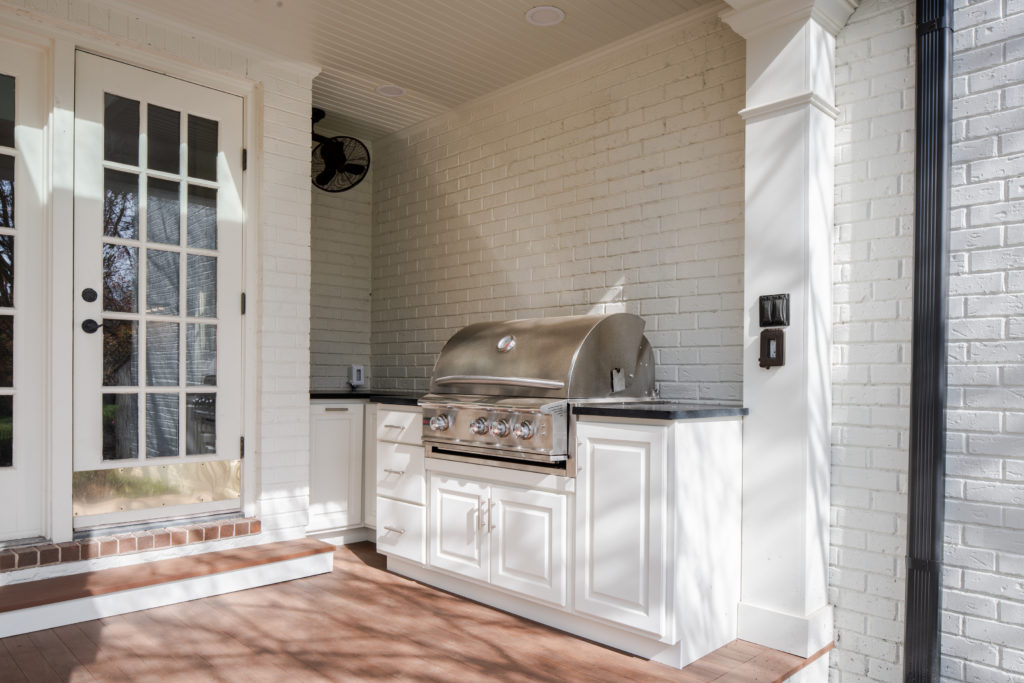 At The Porch Company, we often integrate several types of fans into the porches we design. One recent example was this project in Belle Meade, TN, that included two porches plus a patio. The client wanted the grill area located on the covered porch. Rarely do we design a grilling area under a roof, but the client was adamant. So, we made it work. Even though the porch had a ceiling fan, it needed more air circulation to keep grill smoke from getting trapped. We mounted an oscillating fan over the grill area and installed venting skylights in that section of the porch.
If Your Deck is Too Hot, You May Need a Porch!
A deck lacks two things a porch provides: shade, and a ceiling fan. Some homeowners try adding a pergola to their deck for shade. Unfortunately, most pergolas are primarily ornamental and don't create sufficient shade to keep you as cool as a porch can. If you want an outdoor space that's comfortable during the summer months, you truly do need a porch.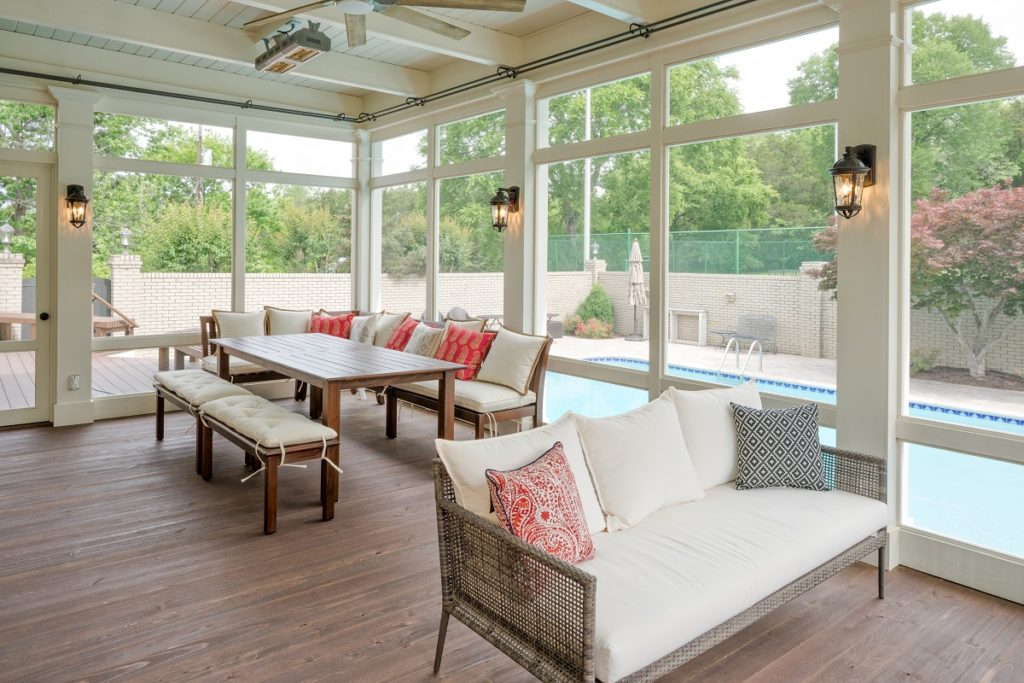 Here you see a poolside screened porch and deck we designed and built in Forest City, TN. Prior to this project, the homeowners had only a deck beside their pool with no shade in sight. They wanted an outdoor area to enjoy beside the pool without having to sit in the sun. (If you're thinking they could have used a table with an umbrella over it, those don't provide nearly enough shade. Not even close.)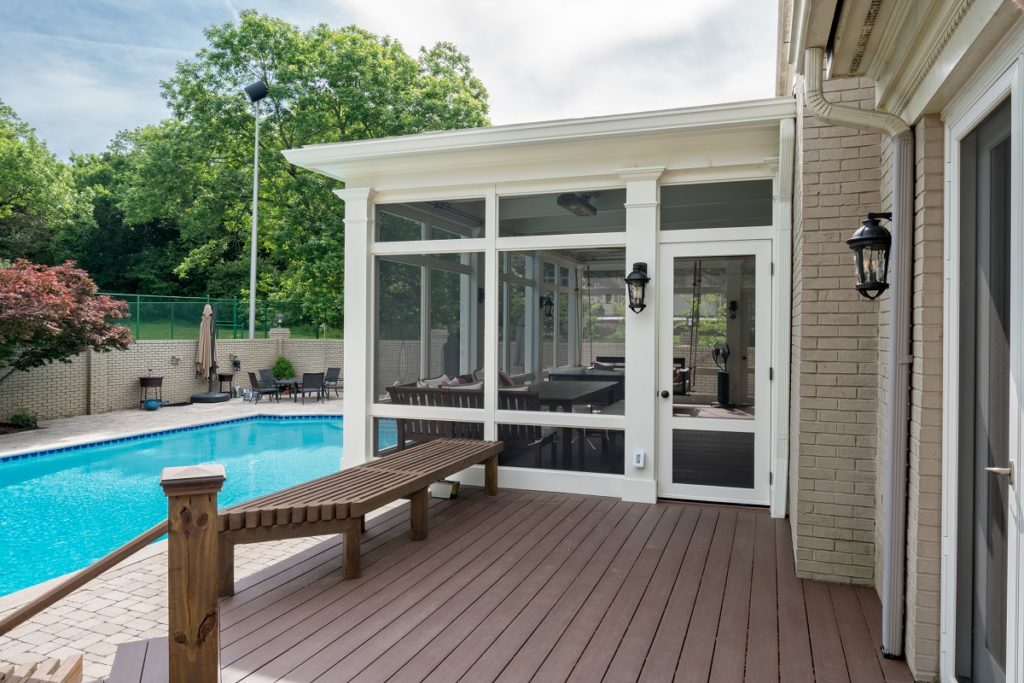 Adding a shaded space was so important to these clients they were willing to give up most of their long deck and part of the pool surround. We created a beautiful screened porch and deck combination overlooking the pool. Inside the porch, amenities include a ceiling fan for summer and infrared heaters for cooler weather. So you see, we have nothing against decks, we just believe a deck needs a shaded space, too. And that's a porch.
Here's another tip help you stay cool on a porch: use "cool" colors for your décor in summer. Switch out items like throw pillows and accessories, substituting cool hues like greens and blues to add a cool and refreshing aesthetic.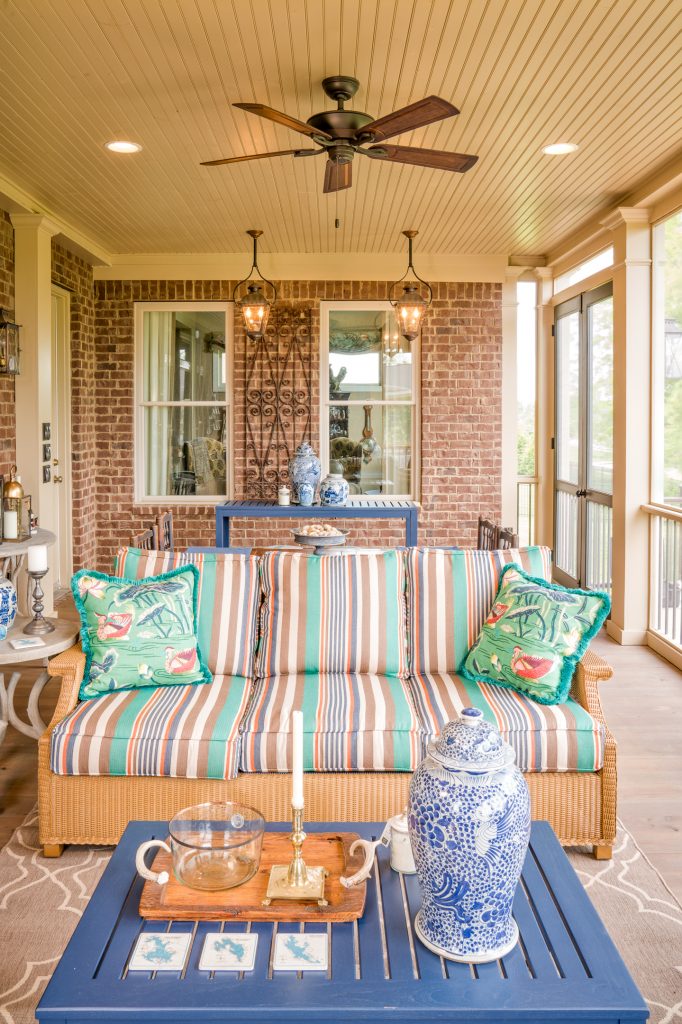 Enjoy the Endless Benefits of a Porch All Year Long
A porch is much more than a shade cover. At its heart, a porch is a room, and usually a well-loved room. Many people rate their porch as their favorite room in the home. Maybe they love it because it's closer to nature. On your porch, you can hear the sounds of nature around you and take in the rich smells of the outdoors. Maybe they love it because it's more informal and relaxing than some other rooms in the home. A great porch can have a "vacation" feel to it. When you feel like throwing a party, a porch welcomes your guests and makes them feel comfortable, too.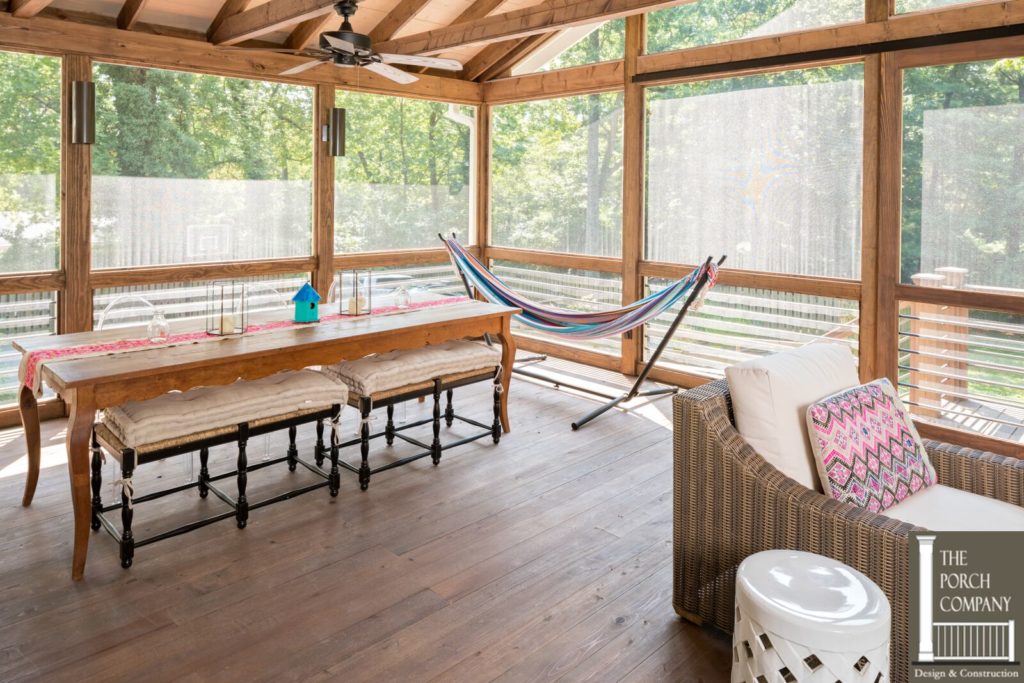 Another great benefit of a screened porch in summer is protection from insects, especially mosquitoes. And of course, both screened porches and open porches will protect you from inclement weather. With a porch, you can entertain outdoors all summer without worrying about rain ruining your plans. For that alone, a porch proves its value compared to a deck.
Porches – especially screened porches – protect your outdoor furnishings and softgoods, too. What's more, open-air spaces like decks and hardscapes will require more maintenance because they're constantly exposed to the elements.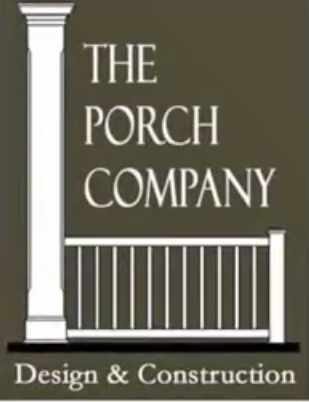 Do You See a Cool, New Porch in Your Future?
Now that you know a porch can keep you cool on hot days, are you ready to let The Porch Company design and build the perfect porch for your Nashville-area home? Call us at 615-663-2886 or come by our design studio. We would love to meet with you to discuss your porch needs any time of year!