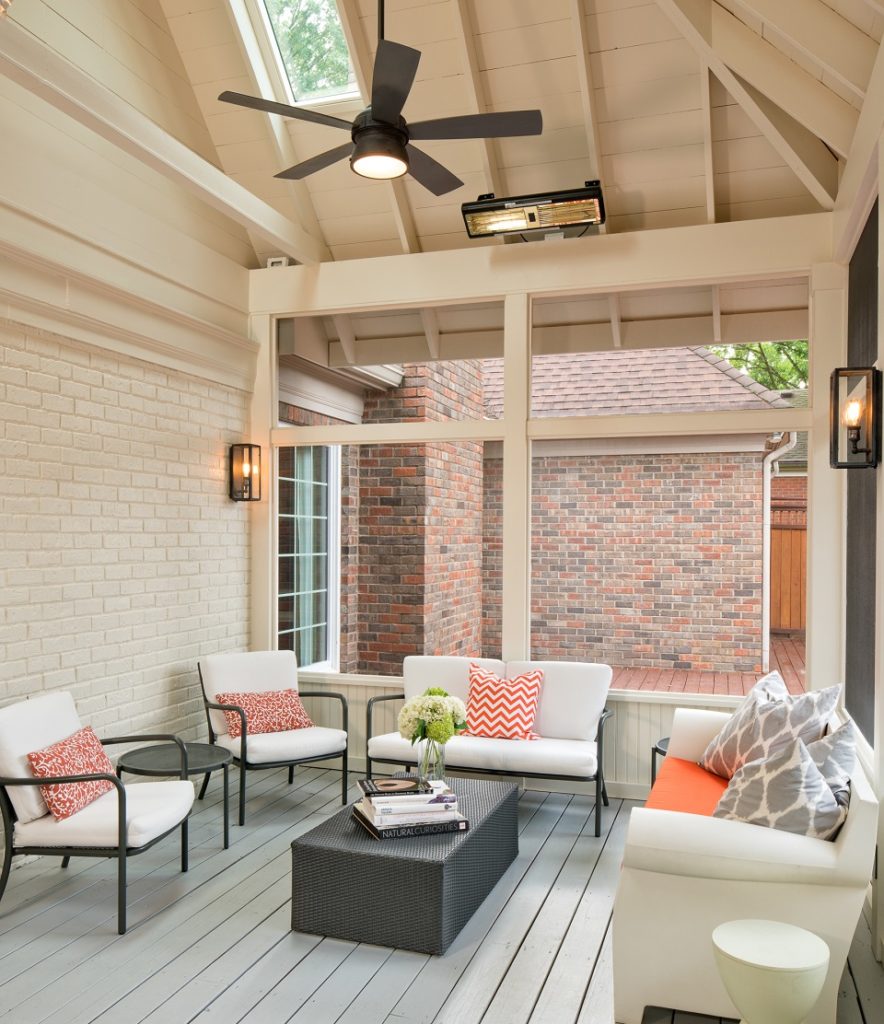 If you're like us, you love your screened porch so much you want to enjoy it year round. You can! The Porch Company has done the work for you by comparing several ways to heat a screened porch, and we have come up with a winner: the Solaira infrared heater.
Infrared heaters use wavelengths that are invisible to our eyes, just beyond the frequency of the color red. They give off heat, but they don't heat the air. The infrared heater sends out waves that warm any objects in their path, and the warming effect is instantaneous. These heaters are more energy-efficient than traditional space heaters. We usually install them up at the point where the wall meets the ceiling. For a large porch, or a porch with more than one sitting area, you may need more than one infrared heater. They do not require special venting, and they are quiet. In addition, because they don't use a fan to blow heat into the room, allergy sufferers appreciate that they don't stir up dust.
You can see why we love the infrared heaters. We recommend installing them on your porch, and in fact we install them on many of the porches we design and build. We even recommend using infrared heaters on a porch with a fireplace. Are you surprised? The truth is a fireplace cannot keep a screened porch warm. As air circulates through the screens, heated air is constantly leaving the room while cool air flows in. Heat from a fireplace cannot keep up with the airflow.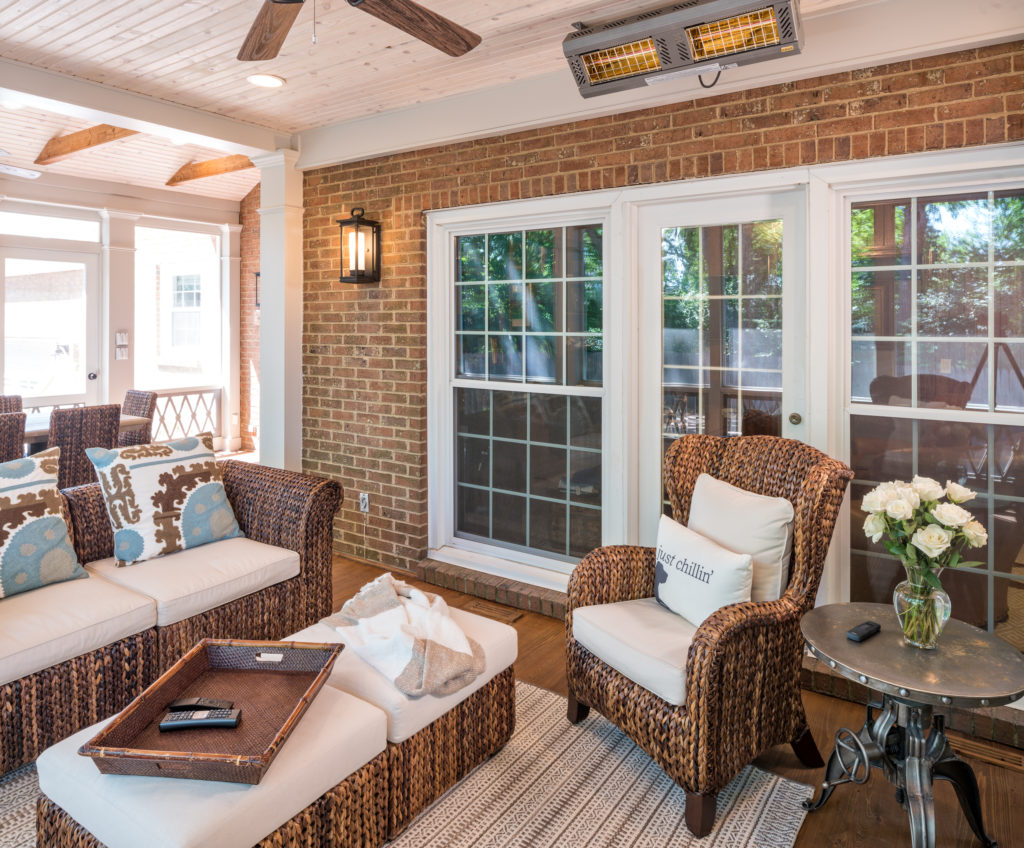 The use of infrared heaters is an innovation in porch design, because prior to this discovery we didn't have an effective way to keep ourselves warm on a Tennessee porch during the chillier months. What a perfect way to extend porch season!
We still love our porch fireplaces …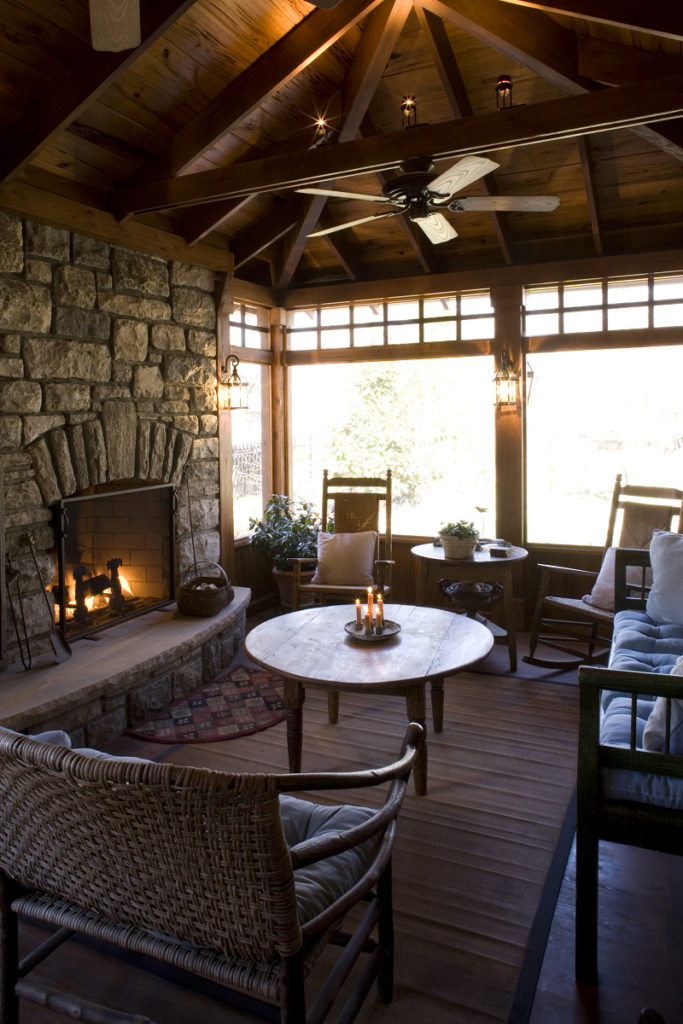 As porch builders, The Porch Company is not advocating the demise of the outdoor fireplace. Not at all! Whether you prefer a great stone fireplace with a hearth or a sleek integrated fireplace, we still love fireplaces for the beauty, style and ambiance they contribute to any room. Visually, there is no substitute for a dancing flame, and a fireplace has no equal as a design element in a room—especially an outdoor room. Our recommendation: ask your porch builder to include both the fireplace and the infrared heater on your new screened porch.
… and comfy throws!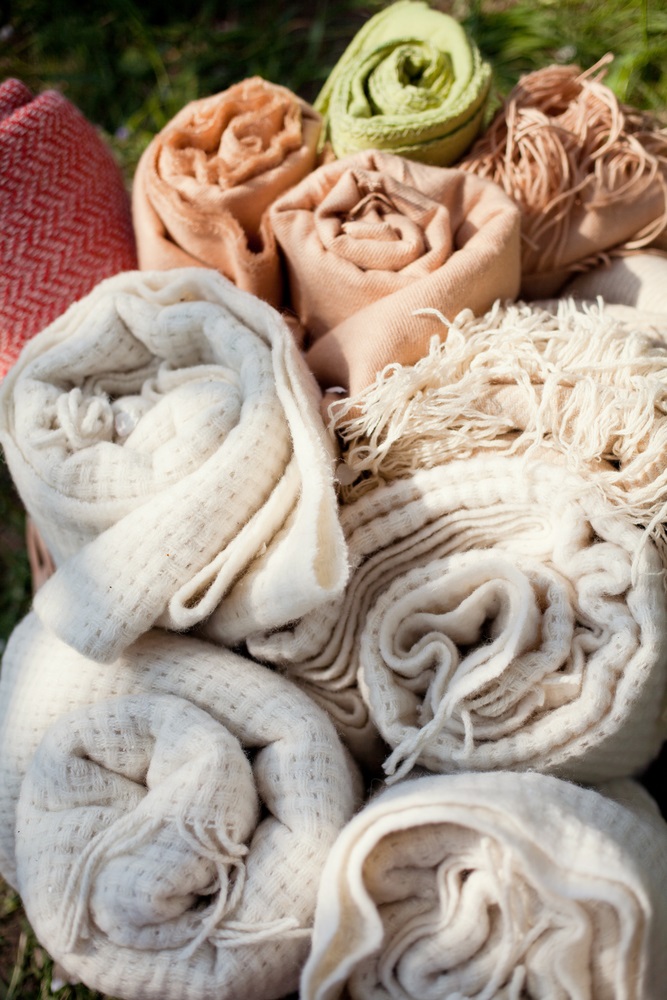 Sometimes you just can't do without your comfy throw. A soft, snuggly throw is always warm and comforting. Keep a basket of fluffy throw blankets on your porch. You may find some of your guests would rather turn off the heat than give up their throw for warmth!
Interested in a new screened porch with a fireplace AND infrared heater?  If you're in the Nashville area, call us at 615-663-2886 or come by our design studio. We would love to design the perfect screened porch for you. We look forward to doing business with you.