In Belle Meade, TN, we say "why have one porch when you can have two and A patio?"
Join us as we tour an exquisite, multi-faceted, two porches plus a patio project The Porch Company recently completed in Belle Meade, TN. We were charged with designing and building an expansive outdoor space for a home in this beautiful suburb of Nashville. As you know by our name, we specialize in creating fine porches. This wonderful Belle Meade project includes not one, but two porches. It also features a custom grill cabinet, a patio, skylights, and a breezeway where the porches meet the home's rear entrance.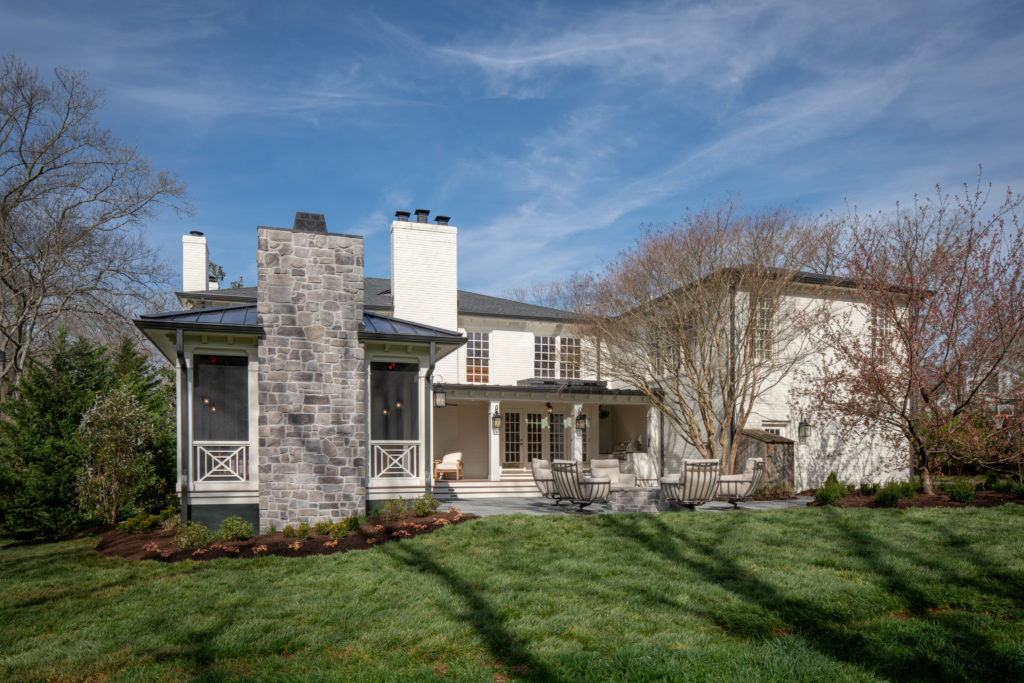 Standing at the far end of the bluestone patio, you can see the two-story home with plenty of windows. Everything else in this photograph – except the tree, of course – we custom-designed for this home. With an open porch, a screened porch, and a patio, the homeowners have the best of all worlds! This combination of outdoor living spaces provides two levels of protection outdoors (sun and insects) along with an area that's open to the sky.
Now Receiving Guests on the Stylish Open Porch
Let's begin our tour with the home's open-air porch. The term open porch refers to an outdoor room that has a roof but is not enclosed with screens. Depending on the angle of the sun, this porch will receive direct sunlight at times and provide shade at other times. This was an important consideration that affected our choice of flooring here. While we often use cypress wood for our porch floors, in this case we selected AZEK tongue-and-groove porch decking. The amount of sun beating down on this porch during part of each day would cause natural wood to fade. AZEK synthetic decking, made of PVC, will stand up to the sun's harsh rays without fading.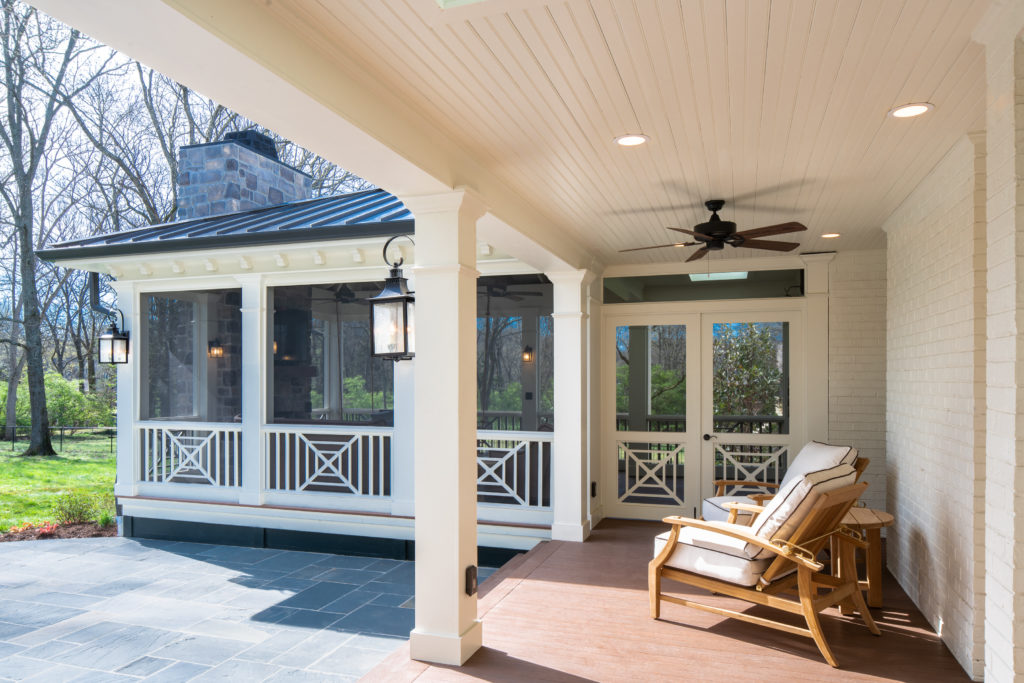 The open porch features a tongue-and-groove beadboard ceiling, our signature Porch Company columns, and large lanterns for outdoor lighting. These lanterns add drama and style to a porch exterior. Because they give off a lot of light, we only needed four of them to illuminate the area. We also installed recessed lighting in the ceiling here for evenings when the homeowners prefer less light on the porch.
Chillin' and Grillin' on this Belle Meade, TN, Porch
Another feature of this open porch is the grill area. We built the grill cabinetry with the same cellular PVC we use for so many of our products. This low-maintenance material is perfect for screen doors, porch panels, posts, columns, and any kind of exterior "woodwork." PVC stands up to all weather conditions much better than wood and takes paint better than wood. In most cases, when cellular PVC is painted, you can't tell it's not wood. And over the years to come, these clients will be glad it's not wood. They'll never have to worry about this outdoor cabinetry rotting, warping, or being damaged by severe weather.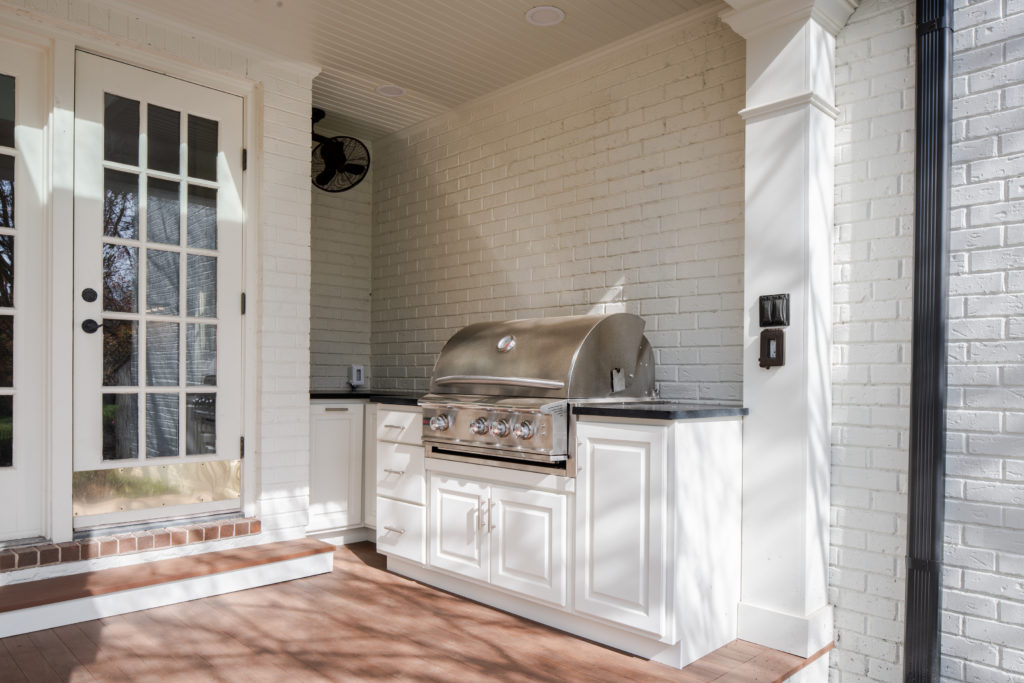 You may notice that the clients' grill is in a covered area that appears to have limited air flow. Rarely do we install an outdoor kitchen or grill cabinet under a porch roof unless clients adamantly want that. When smoke gets trapped between the grill and ceiling, it can be unpleasant for guests and grill-master alike. In some cases we install a vent hood over the grill to help pull the smoke up and out. In this case, we designed the porch with two alternative sources of air flow. First, there is an electric fan tucked up in the corner of the ceiling to the left of the grill. Second, the two skylights over the French doors are … wait for it … venting skylights.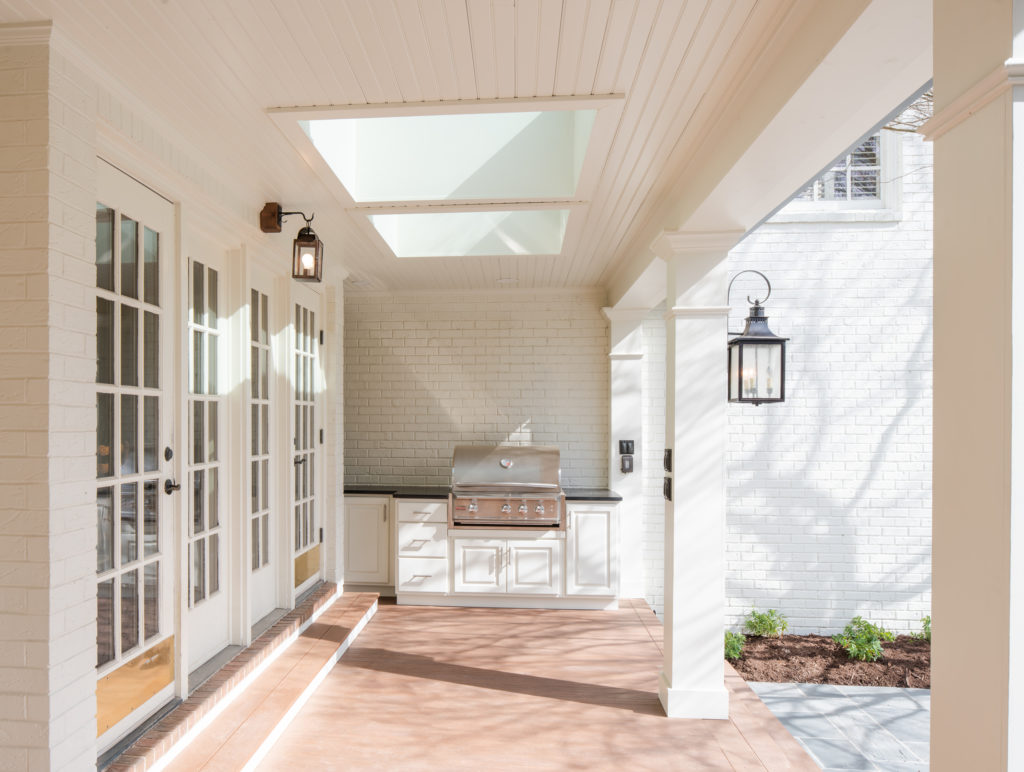 Skylights in this location serve a primary purpose of bringing light back into the home. Whenever we add a porch roof over existing doors and windows, it diminishes the amount of light coming inside. Our solution in several porch projects has been to install skylights in the porch roof. For this project, we used special skylights that actually open to help draw any grill smoke up and out. With a fan blowing and skylights venting, the homeowners will be able to keep smoke from building up under the porch ceiling.
Blending Architectural Details, Old and New
Have you noticed the corbels that line the soffits under the edge of the porch roof? We used these ornamental pieces to tie the porch design in to that of the home. The corbels mirror the ones accenting the soffits on the home's second story. As your Nashville and Belle Meade porch designer, we cue in on your home's architectural details. By carrying the same details over to your porch design, we give the porch an always-been-there appearance. Our objective is to make your new porch look original to the home, not like an addition.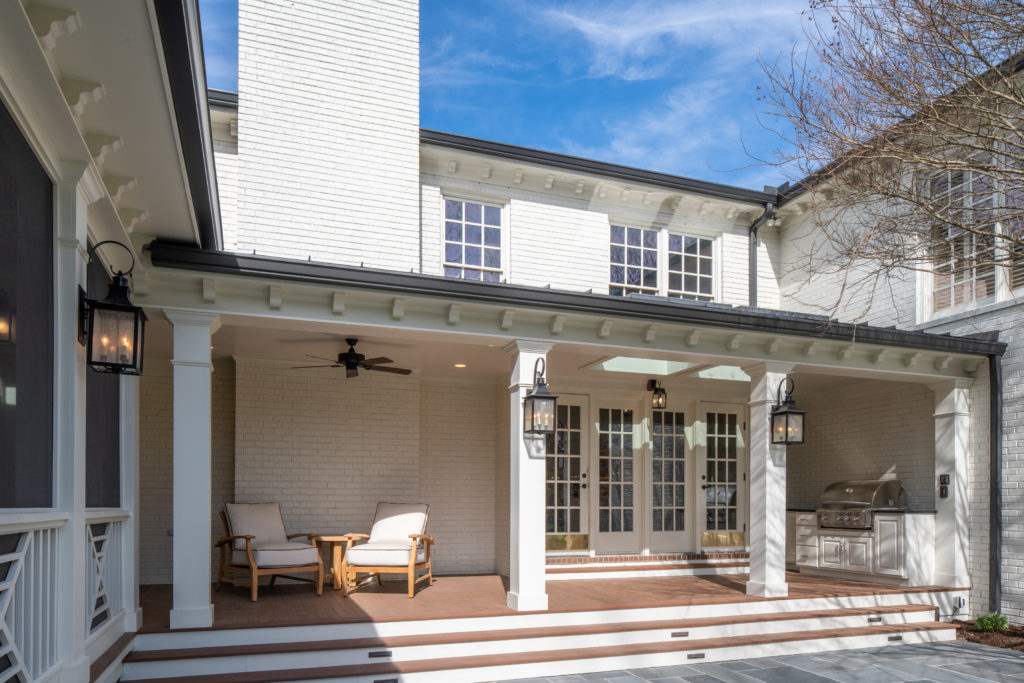 The Breezeway – Connecting Outdoor Rooms to Indoor Rooms

The double screen doors announce your arrival at the home's breezeway. We sell these wooden screen doors in our PorchCo store, so they're available for anyone in the U.S. to purchase. This particular design is called Southern Cross. We have other designs, too, in both the single door and double door formats.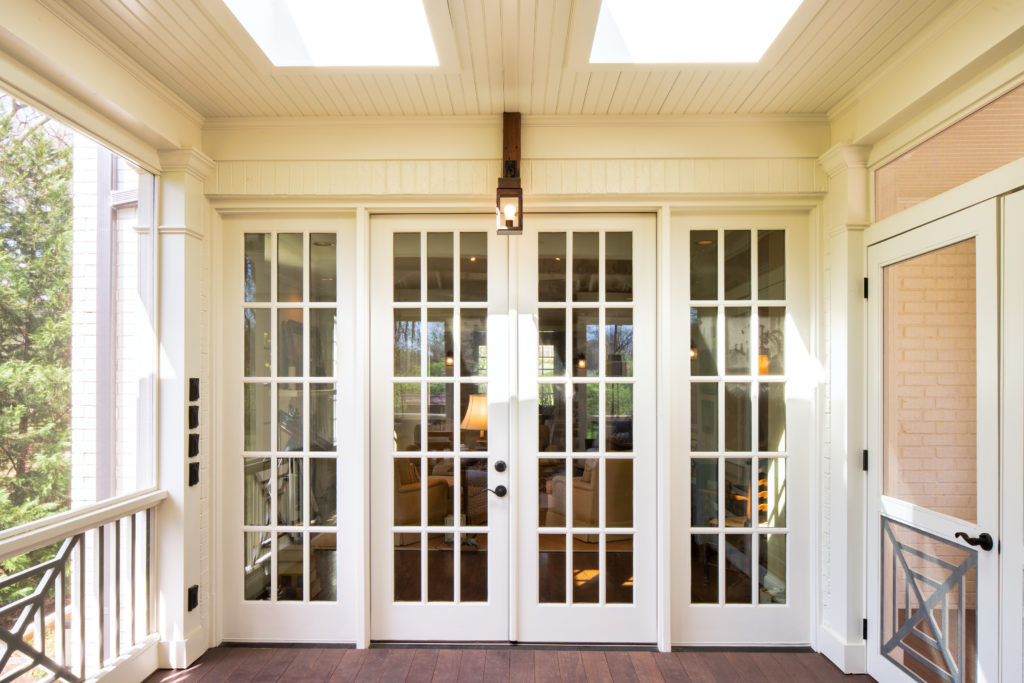 The breezeway connects the porch to French doors leading into the home. We installed these French doors as part of the overall porch project, replacing a set of windows. It was important to provide an entrance to the home directly from the screened porch. Just like the doors leading inside from the open porch, these doors also feature skylights overhead for maximum light inside. The only difference is these skylights don't open; increased airflow isn't needed here. With screens on three sides, the breezeway will get plenty of fresh air without additional help.
The Screened Porch You Dream About

Inside the screened porch you can see we carried out the Southern Cross motif in panels forming the knee wall. We installed our favorite cypress flooring in this porch since the floor won't be getting direct sunlight. For the ceiling, we used tongue-and-groove beadboard like that used for the ceiling on the open porch.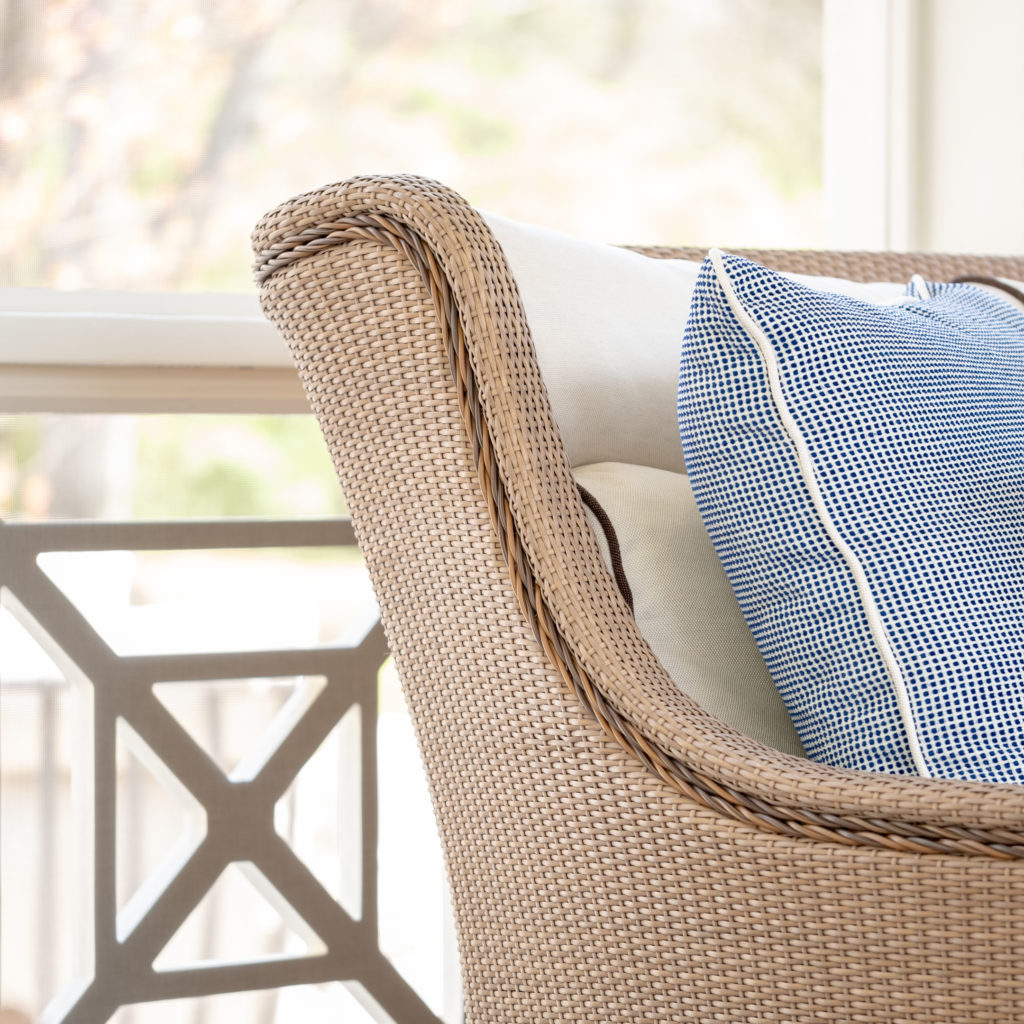 This screened porch includes two wonderful features that have become standard on many Porch Company projects:
Hollow wooden mantel over a stone fireplace. We make mantels with this unique design in our shop. The mantel's hollowed-out center provides a place to hide wiring for a TV and other electronics. Cypress stained to match the floor, this mantel has a smooth finish. We also make circle sawn or hand-hewn mantels for a textured finish.
Solaira infrared heaters. In our vast experience with fireplaces on porches, we know that a fire will not keep a screened porch warm. Cold air enters continuously, and warm air escapes. We love to use infrared heaters on porches because they are energy-efficient, and they're effective. The heater emits waves of infrared light, invisible to the eye but warming to anything they touch.
Among their furnishings for the screened porch, these clients chose one of our custom bed swings. We make these bed swings in our shop, and they are available in pine, teak, or solid cellular PVC.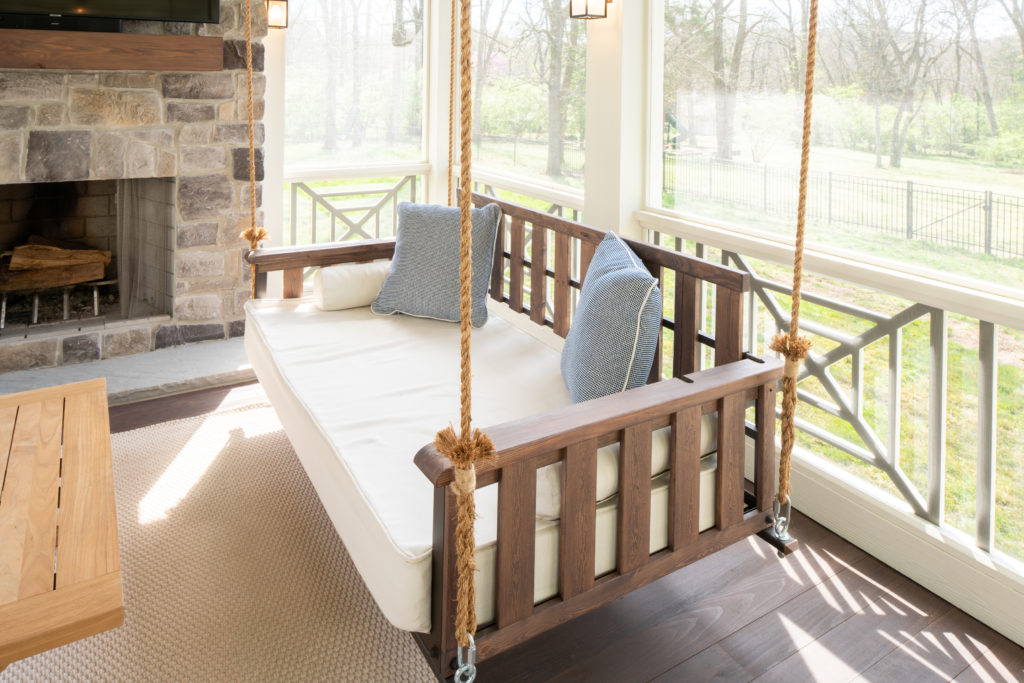 You'll see there is a lot going on up near the rafters of this screened porch! When we install heaters and fans and swings, we have to plan their placement carefully. A lot of planning goes into our screened porch designs.
Finally, for lighting within this screened porch, we chose fixtures similar to the lanterns outside, but smaller. We're sensitive to scale when it comes to light fixtures because a fixture that's too big can overpower a space.
A Patio Made for Evenings Under the Stars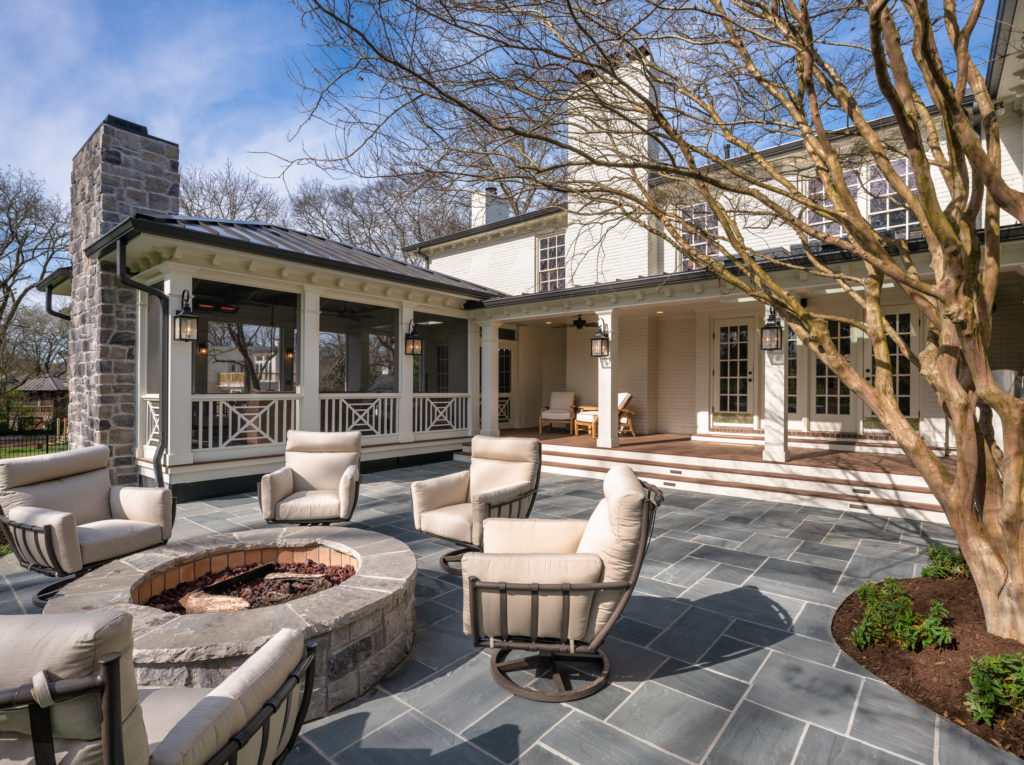 Follow us back outside now to the beautiful bluestone patio. The broad steps leading down from the porch to the patio and fire pit area are easy to navigate. Large enough for outdoor entertaining, this patio is also the perfect spot for an intimate gathering. Did you notice the stair riser lights? These tiny LED lights are just bright enough to illuminate the steps for safety while also creating a soothing ambiance along the patio.
Do You See a New Porch and Patio in Your Future?
If you are interested in having The Porch Company design and build the perfect porch(es) and patio for your home in the Nashville area, call us at 615-663-2886 or come by our design studio. We would love to meet with you to discuss your porch needs any time of year!