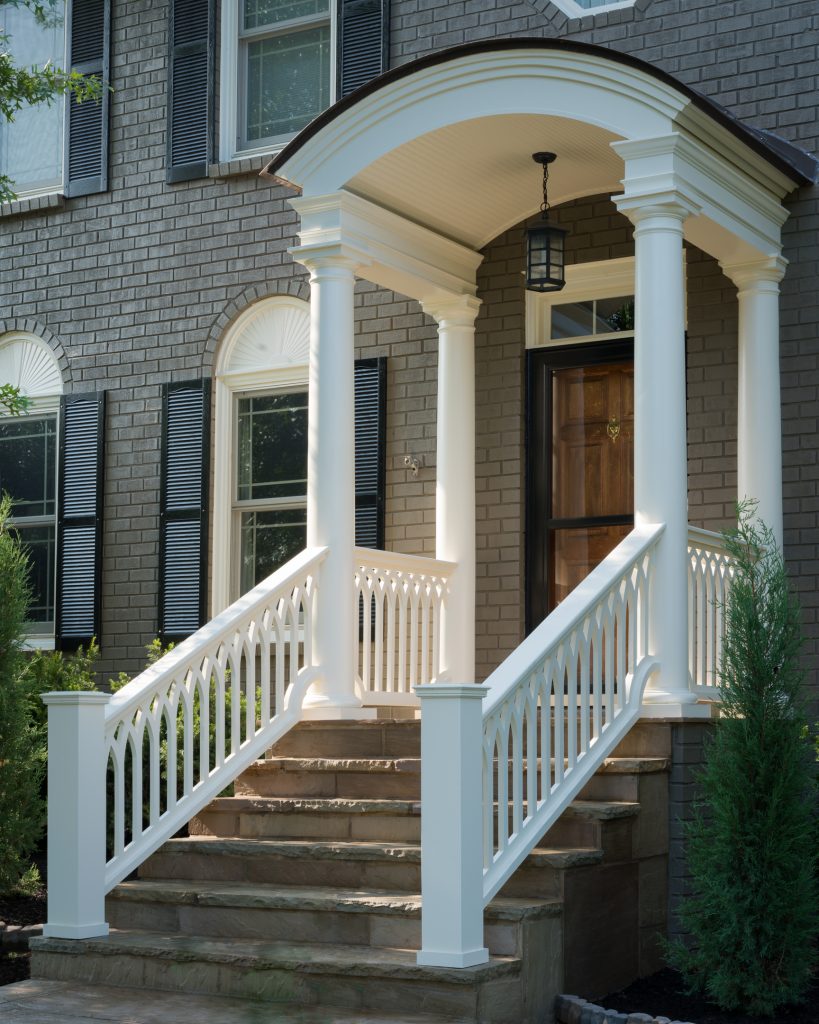 NO MATTER WHERE YOU LIVE, NEVER FEAR: THE PORCH STORE IS HERE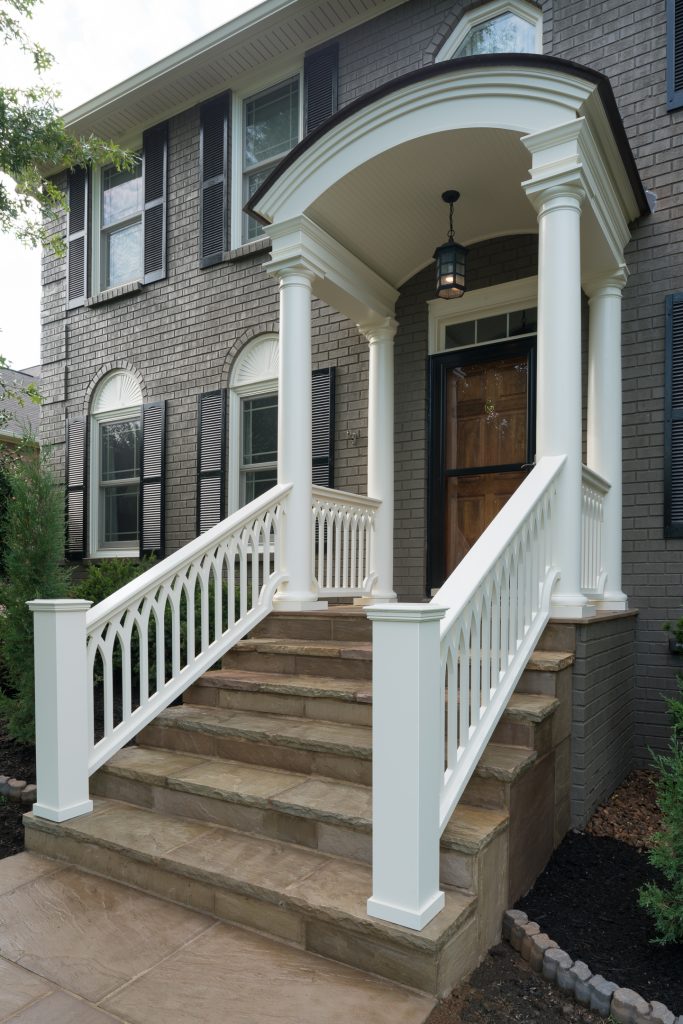 Today we want to show you two things we love. The first is an amazing front porch transformation we recently completed in Bellevue, TN, a popular Nashville neighborhood. And the second is how you can have some of these same beautiful porch features at your home, even if you don't live in the area.
The stunning, new front porch pictured here makes a dramatic first impression. It's hard to believe a few weeks ago there was nothing at this front door but a plain brick stoop with thin, plain black metal railings. There was nothing overhead, no roof or awning over the stoop.
The Porch Company didn't just add columns, railings, new steps and a porch roof to this home, we added character, curb appeal and a warm welcome.
What do you notice first? Perhaps you feel welcomed by the elegant railings that reach down the staircase and beckon you in. The decorative panels below each railing, where you might have expected to see ordinary pickets, are available through The Porch Store. We make the panels ourselves, and for this home we modified them a bit with an arch at the bottom to fit around the base of the columns. The panels are made of PVC, a strong, durable low-maintenance material that you can paint if you don't want it to be white. The specific design featured here is the Cathedral Picket Panel, and it is just exquisite.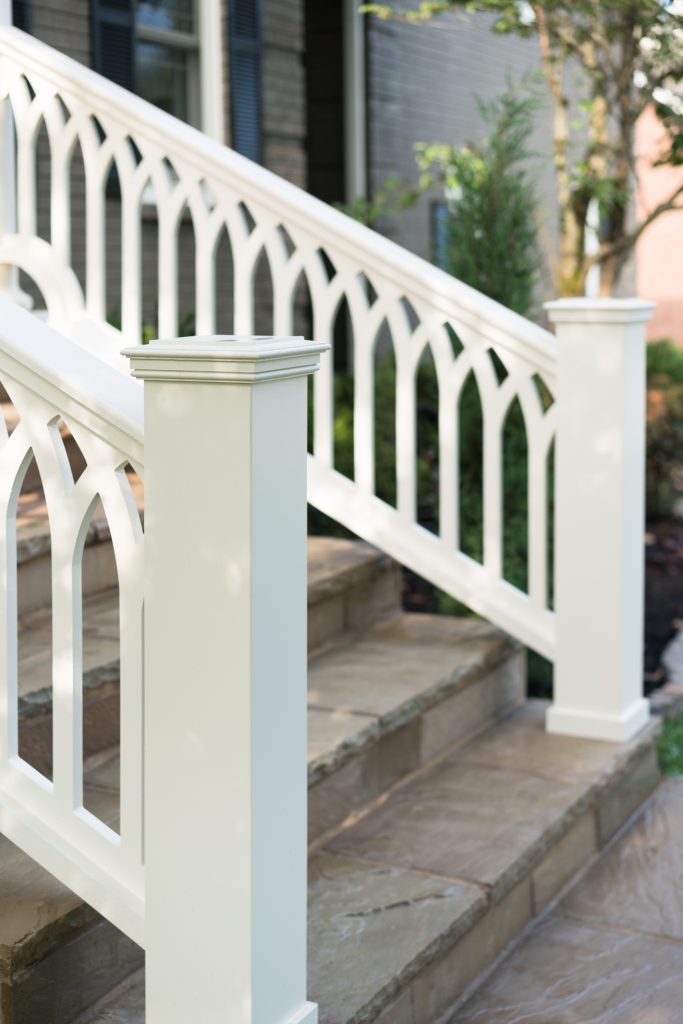 The hand railings are made of pressure-treated wood, but we capped them with PVC, too, making the railings smoother looking than wood. The PVC cap protects the wood underneath and requires less maintenance than unprotected wood.
Greeting you at the base of the steps is a sturdy pair of newel posts standing like sentries. These post covers and caps are also available through The Porch Company Store, and this specific design is called the Hermitage Sleeve and Cap. The post cover, or sleeve, is made of PVC and is sized to fit over a 6-inch square post. The Hermitage post cap is made of solid PVC. Be sure to notice the molding details around the post cap. Together the sleeve and cap can be painted if you choose.
We designed the home's new steps to be wider and more welcoming than the previous brick staircase. These attractive steps are made with an unusual sandstone from India.
Standing guard at the top of the steps are PermaCast® Fiberglass columns — low maintenance, weather proof and insect proof. The columns support the very interesting roof we designed to protect the porch and front door — and guests — from weather as well as UV rays.
This porch roof has so many interesting details that you need to look closely to take them all in. This particular shape is called a barrel-style roof, and we love the way its rounded shape mimics the arches over the home's first-story windows. The porch roof itself is a standing seam metal roof. On the underside you'll see the fine detail of the porch's beadboard ceiling. We do like a beadboard ceiling for its old-fashioned, welcome-home appeal.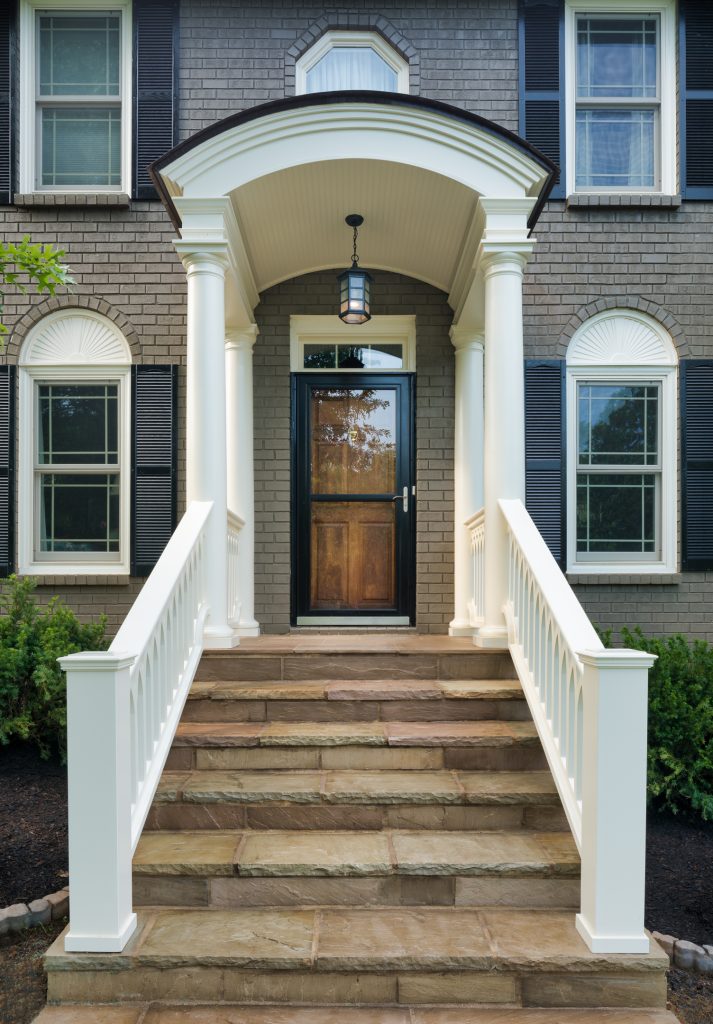 Finally, you'll want to admire the many levels of molding detail along the roofline, the two support beams and the top of the columns. Always thinking of curb appeal, The Porch Company works extra style and flourishes, like intricate molding, into a front porch design, more than on a back or side porch. Most of the trim work here is made out of PVC, a trend within the building industry because PVC is such low maintenance.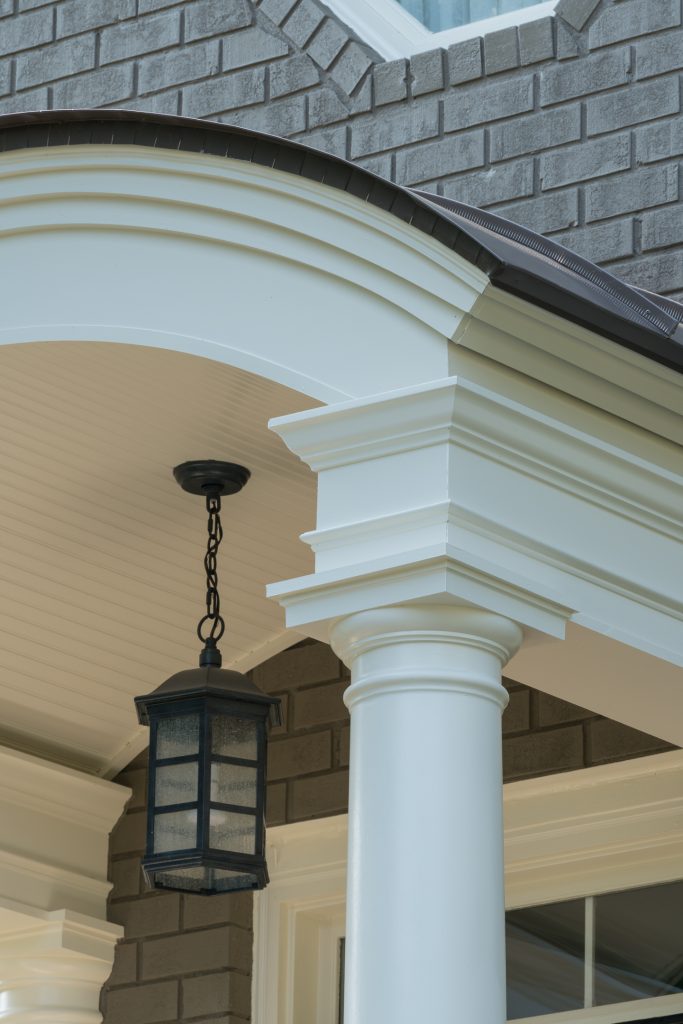 Overall this front porch makeover delivers the dramatic and elegant statement the homeowners were looking for. The "cherry on top" of this project is a beautiful hanging light fixture over the front door that says "welcome" in a warm way.
We love showing off these finished projects for so many reasons. We spend a certain amount of time wrapped up in each project and, once they're done, we are the proud parents wanting to show what we have "birthed."
If you live in the Nashville area, and you need a new porch or porch renovation/expansion, we hope you like what you see enough to give us a call. Something about our recent project may resonate with you. If you say, "My house would look great with a porch like that!" — and you call us for a consultation, then our photos have succeeded.
Just as important, if you live in another part of the country, we created The Porch Store to provide clients outside of the Nashville area with a source for unique porch and deck solutions from a trusted name. Items featured in this latest project can be seen here: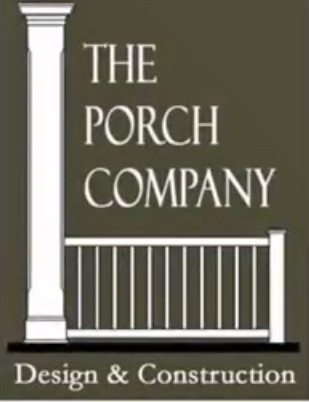 If you are interested in a porch addition or makeover, give us a call at 615-663-2886 to arrange a design consultation. If you live outside the Nashville area, take a look at the many porch components available on our e-commerce store. You'll find everything from porch doors to railings to our signature porch bed swings. We look forward to hearing from you.