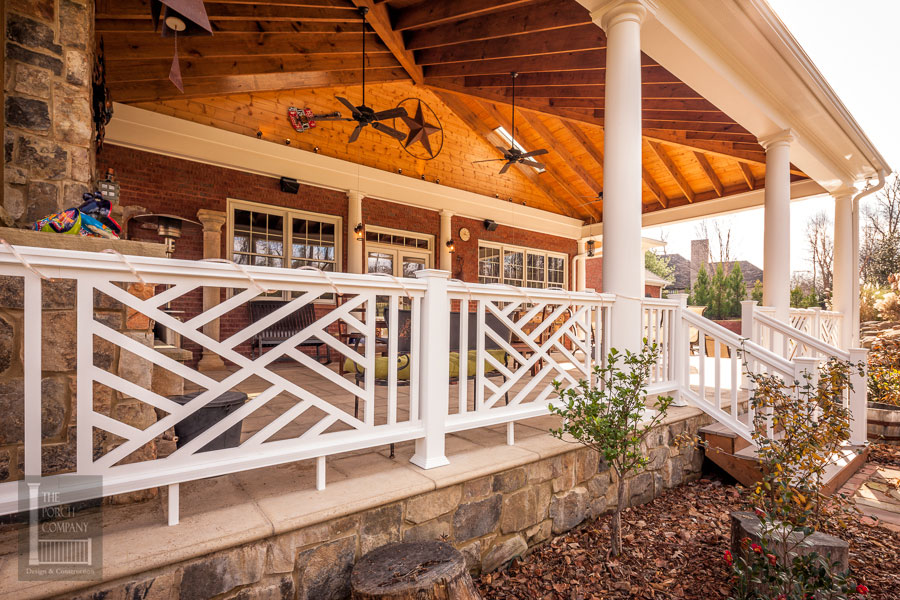 Oh Chippendale, why do we love thee so?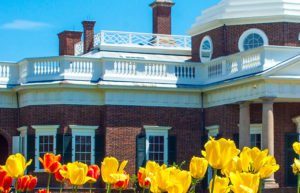 Since we debuted our porch railing panels at the Porch Store, the Chippendale patterns have been some of the most popular. In fact, we now even have a Chippendale 1, 2 and 3! Perhaps the most recognizable use of Chippendale railings is at Thomas Jefferson's Monticello home. But regardless of whether you've had the privilege to visit Monticello and see the myriad of Chippendale railing panels work harmoniously together, this railing pattern is abundantly pleasing to the eye and forever popular.
A look back at the history of Chippendale yields only a bit of insight about why we love Chippendale. When Thomas Chippendale, a relatively unknown English cabinet maker published the Gentleman & Cabinet-Maker's Director back in the mid 1700's, it was met by immediate and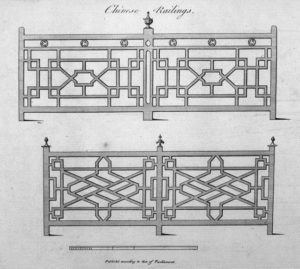 tremendous fanfare. The popularity of his designs resonated immediately with wealthy aristocrats and common folk alike. Several hundred years later, the appeal has not dwindled.
The "Director" as it's now affectionately known included illustrations of furniture and references to styles that inspired the trademark look. A number of railing illustrations were pictured. The railings captured "Chinoiserie" known as the integration of Chinese motifs into Western architecture. A number of different styles were captured in Chippendale's designs including Rococo and Gothic, along with the Chinese Chippendale style.
What's interesting about the Chinese Chippendale style is the fact that such ornate patterns represent such a classical style. While some Chinese motifs represented in Chinoiserie are especially ornate and create a very formal sensibility, the relative ornate patterns in Chippendale railings are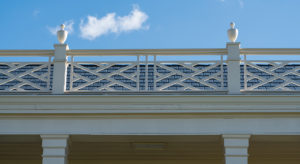 received by the eye as orderly, classic and timeless.
If you've had the privilege to tour the grounds at Thomas Jefferson's Monticello, you'll see a menagerie of Chippendale railing patterns used in everything from railings to widows walks to furniture. While each of the railing panels are beautiful and classic individually, you'll notice that many different Chinese-inspired railing panel motifs are used side-by-side as if they match each other. The randomness of integrating completely different motifs side by side is neither distracting nor even something your eye readily picks up on. You have to look closely to notice that wholly different motifs in Monticello's railings are effortlessly placed side by side creating a soothing and very pleasing aesthetic.
One common question you'll hear about Chippendale railings is whether it's distinctly Southern or whether the motif is universally appropriate for railings anywhere. The latter is the answer. The Chippendale motif has been popular worldwide for hundreds of years. Just as you'll find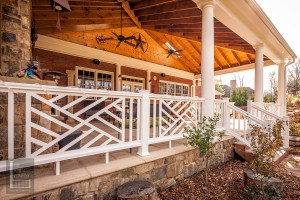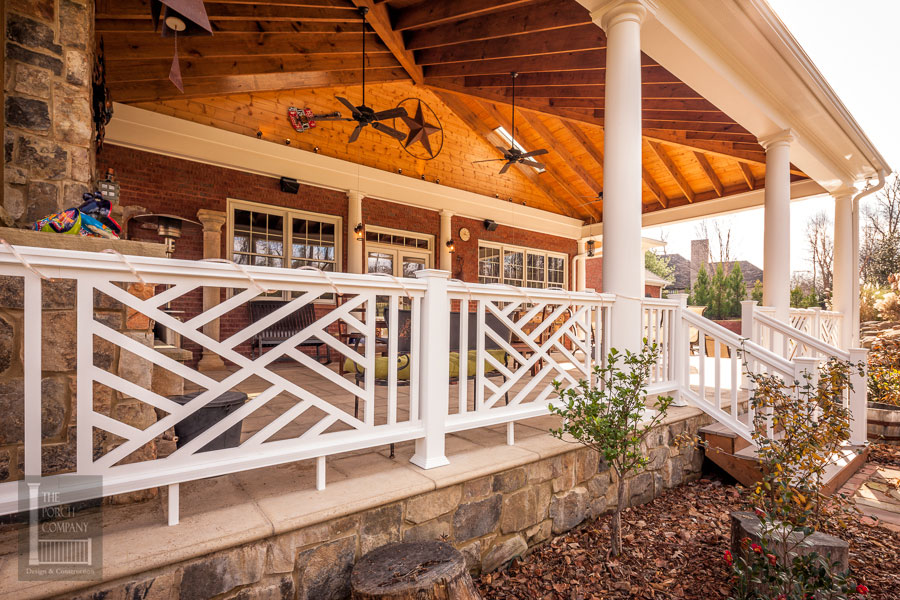 classic Chippendale chairs in homes from Florida to Michigan to California, Chippendale railings as appropriately used and loved everywhere.
At the Porch Company, in addition to our three variations of Chippendale railing panels, we also have a number of other styles which can be seamlessly integrated into your porch railing, deck railing, widow's walk, fencing or decorative privacy walls. Take a look at the open porch railing pictured here. You'll see that Chippendale panels with picket edging are used with a very rustic warmly stained wood motif on this porch. In fact, nothing competes. The contrast of the white railings and the warm stained elements are inviting and aesthetically delightful. The contrasting patterns of the ceiling rafters, the fireplace's stone and the white PVC Chippendale ornamentation complement and seem to handshake with each other as they create an inviting and visually delighting whole.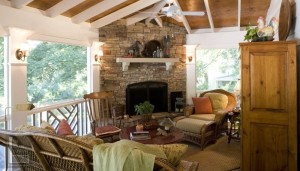 When customers purchase our railing panels online, we encourage them to send pictures of their finished outdoor spaces so we can see the fabulous way homeowners across North America are integrating unique combinations of panels to fashion their own one-of-a-kind custom railings and decorative elements. We would love to see a Porch Store customer weave together a number of patterns into their new railing including not only Chippendale patterns but also perhaps integrating with the crisscrossed Jackson panel, the repeating diamonds in the Drummer Boy panel, and the more ornamental Chinese railing panel. Perhaps we should have a contest to see which future Porch Store customer designs and builds the most Jeffersonian creatively mix-and-match railing on their new porch or deck. If you're up for the prize, browse our PVC easy-to-clean low maintenance railing panels on the Porch Store and start dreaming of your new stunning railing.