Have you ever passed an old wooden farm building that gives the lean of the leaning tower of Pisa a run for its money and fame? You wonder how some of these shacks and barns are still (somewhat) standing with various parts of their old structure fallen off or falling in on each other. In the past I remember wondering why someone would leave a building on their property that is in such disrepair and in such need of removal. Fast forward a few years and now those old buildings represent a beginning and not an end. Those old barns and farm buildings each have a tale. And for many, that tale is yet to be told.
Here is the story of how Granny Nell's old barn became the treasure of many. A few years back, my mother-in-law called and asked if we had any use for barn wood since she was getting rid of an old barn. At the time we weren't sure what that use would be but we were glad to go help take down the old barn. We collected the wood and stored it not knowing if we would ever use it or what we would use it for.
To thank Granny, we decided to create a tray from the barn wood. We cleaned and smoothed the wood and made a lovely tray. It was finely crafted but it was too perfect. It was too smoothed and belied the character due to its reclaimed materials and journeyed past.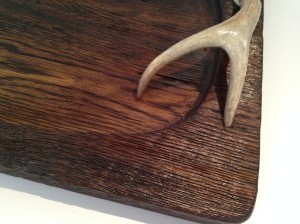 Yet we enjoyed our first use of the barn wood and were inspired to create the second generation of our barn wood trays. As the story goes, we were able to add details and finishes that imbued the character of boards that have held their ground against time, wind, storms and beating rays of sun over many years. As you've read in the story about our Porch Company innovation, we let problems continue to be solutions. As the tray needed a handle with character to match its parts, natural antler tray holds joined the tray's design evolution. As the lovely tray needed a place to stand on its own two feet, we designed our tray stand with the characteristic attention to every last detail. The stand folds easily when it needs to be out of the way. It has natural leather straps, is held in place with one screw and a copper penny covers the recessed hole to add contrasting character and finish at the same time.
At the time, our line of Porch Store swings was weaving its own tale. The Porch Store swings were traveling through their own journey of design and materials and were ready for yet another chapter of their own. We started developing porch swings with the reclaimed barn wood embracing everything we love including contrast, character and workmanship.
Enter our current collection of barn wood swings…

As the journey of Granny's barn continues, as does her legacy. Sadly, she passed last December but we owe so much to her intuition and desire for even an old barn to be useful and productive. Indeed, it is!