Porch ceiling styles
When working with a company to design and build your new custom screen porch, there are a myriad of options for every element of your new porch. These options include roof shape and ceiling choices among many other options such as size, shape, and amenities. With so many choices, how do you decide? That's where we come into the picture. When you work with the Porch Company, we ask loads of questions. As you share your wants and needs with us, the best options for your new porch become apparent. After building porches here in the Nashville market for over 20 years, we've built every shape, size, and style imaginable. We're able to take that experience and help match what you envision for your screen porch with the best design features, styles and amenities. We then sketch a design for you right here in our Nashville showroom. Read a little bit more about our Nashville porch design process in this blog.
We decided to do an ongoing design series of blog posts about the various features of screened porches to share some options by showing you our work. Enjoy this gallery of a baker's dozen of porch ceiling options.
Ceiling 1:
This porch has a hip roof with a whitewash beadboard ceiling and skylights. When we add skylights, our goal is to try to bring light back into the house which the porch has shaded.  Therefore, we make the skylights as close to the house as we can.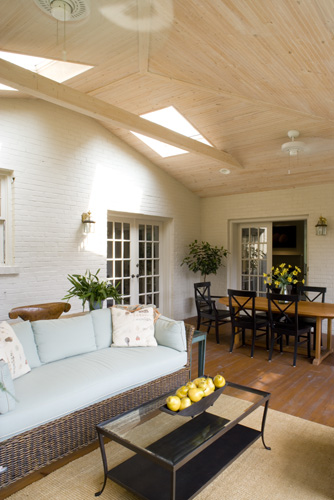 Ceiling 2:
This flat roof porch has a beadboard ceiling. The beadboard allows a cavity for us to add can lights. This dark ceiling adds drama and elegance but also darkens the space which is why lighting is so important.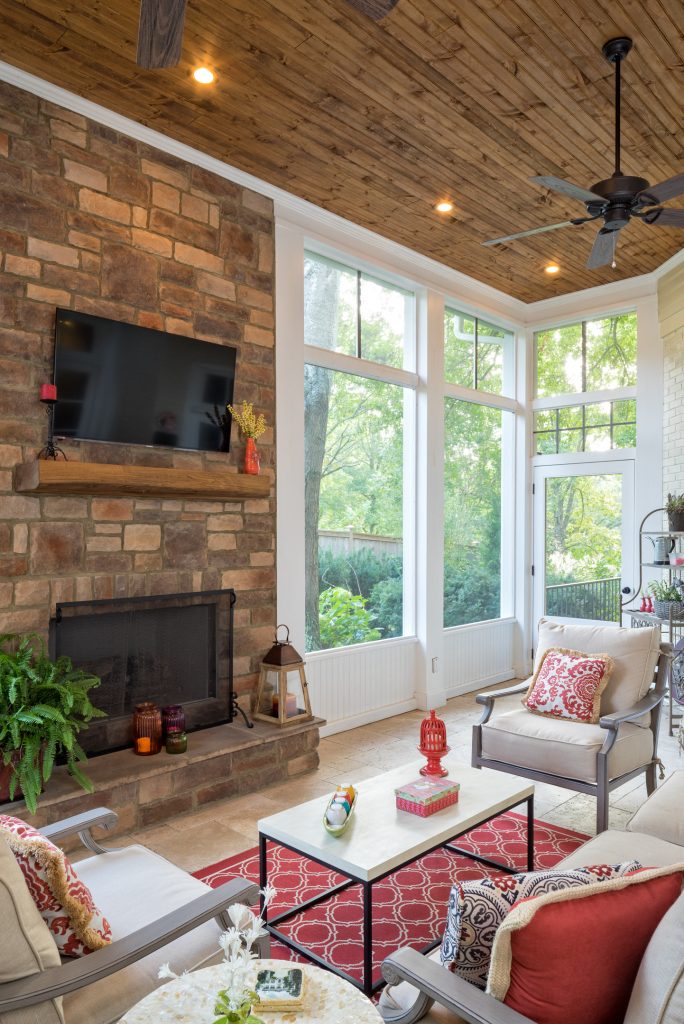 Ceiling 3:
A light-colored ceiling makes the porch light and airy. This flat ceiling uses beadboard. The picture below shows how white and bright this can be.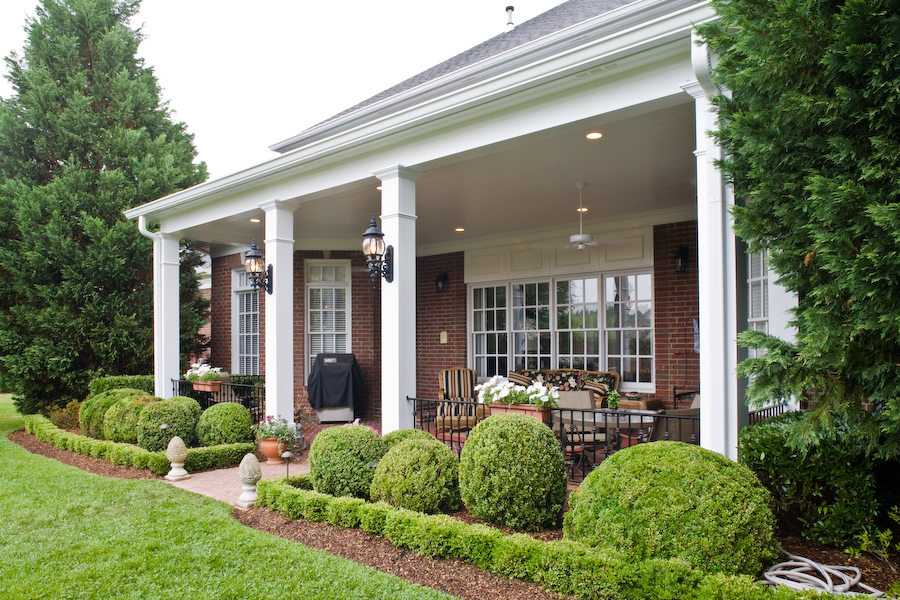 Ceiling 4:
The photo below is an example of an exposed rafter ceiling which is what we do most often. Everything you see is actual framing. It's all pure function. These homeowners chose to paint the rafters and collar ties white to match the columns but did a green stain on the roof sheathing to add a lot of whimsy to the room. We put track lights on the collar ties so the light trickles back down into the room.
Ceiling 5:
The picture below is an example of a hip roof with a whitewashed beadboard ceiling. This ceiling includes can lights in the ceiling and also has lights on the columns.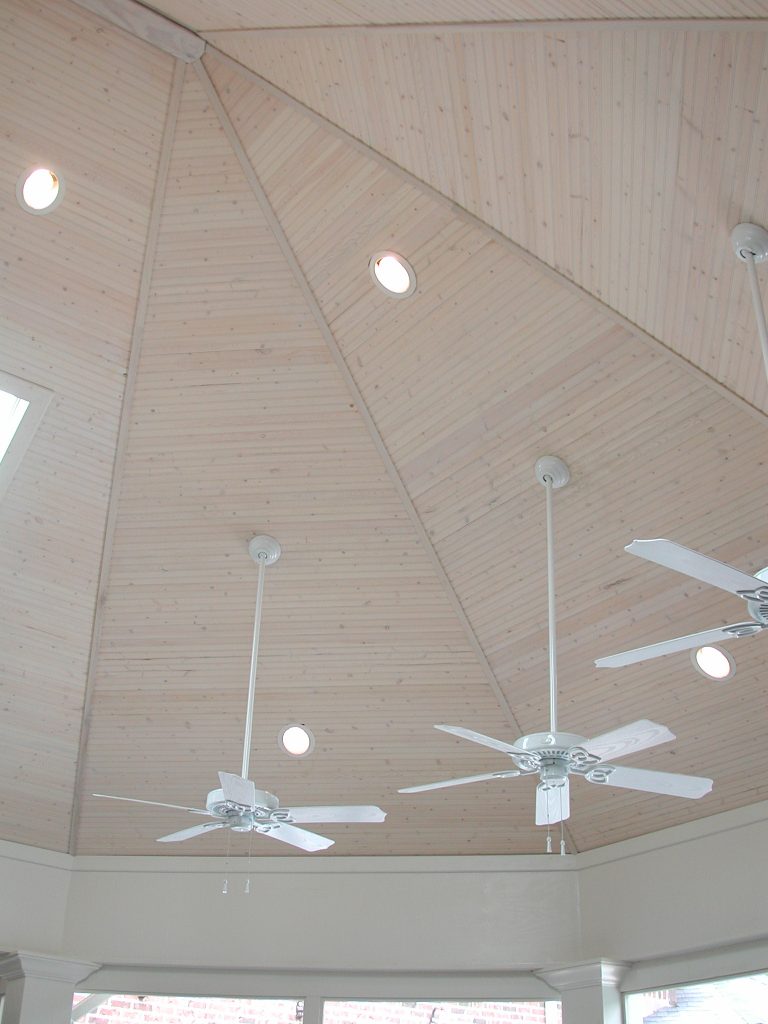 Ceiling 6:
The picture below is an exposed rafter ceiling with stain. There are track lights on the collar ties. It takes more light when you have a dark ceiling. The rafters are actually stained darker than the sheathing which gives more contrast and "relief" to the ceiling.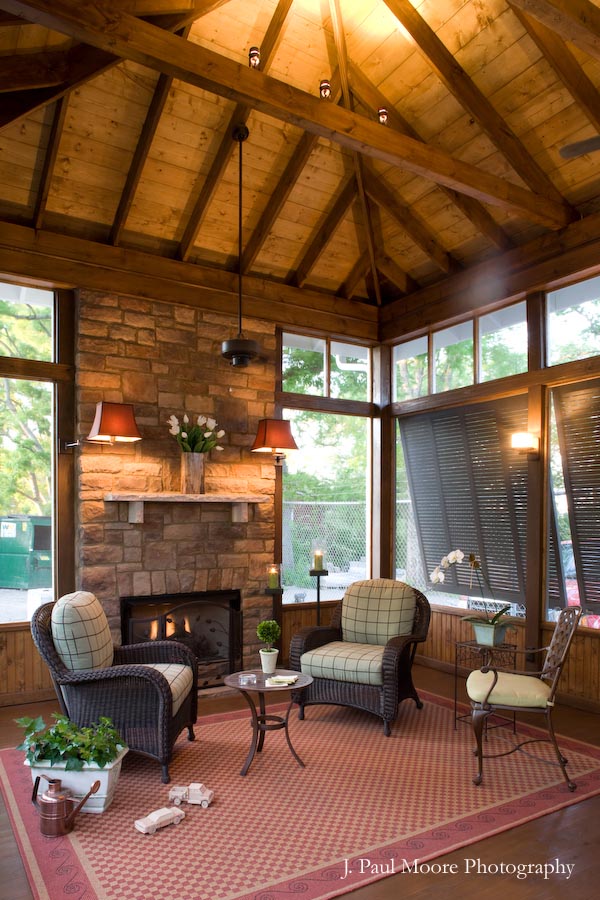 Ceiling 7:
This is a flat roof using heavy timbers spread way apart with tongue & groove roof decking. The homeowners painted the beams white and did white wash on the roof sheathing so you can still see the grain on the sheathing. Because it's such a white porch, we didn't need as much light and the column lights sufficed.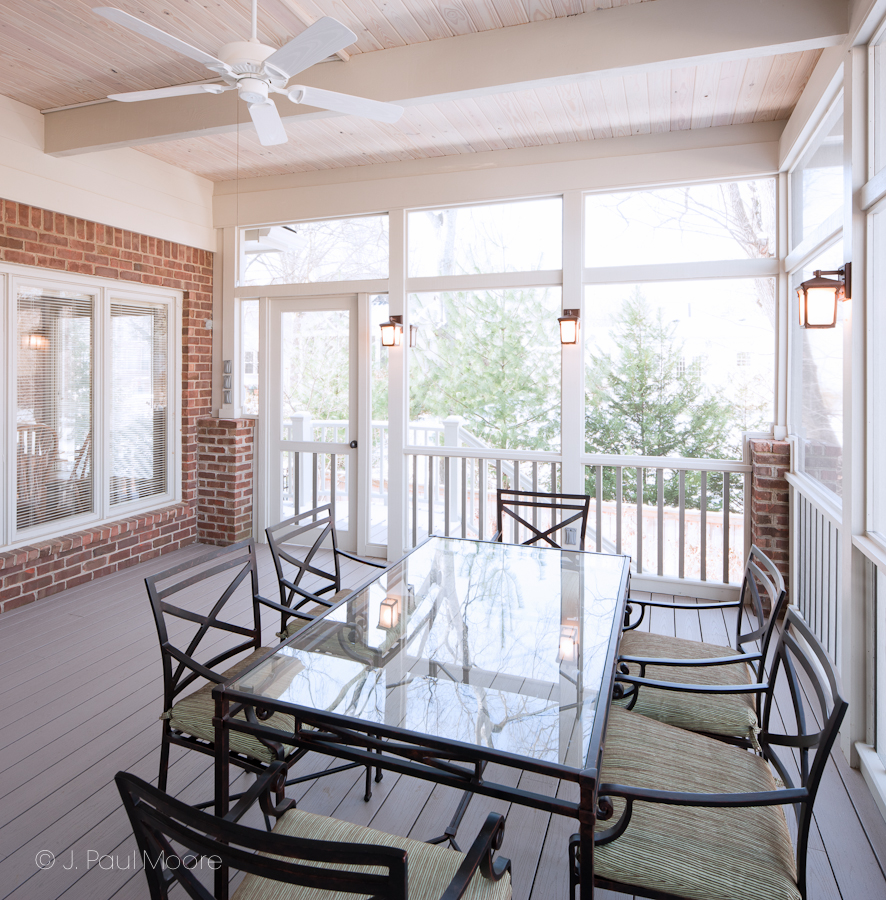 Ceiling 8:
This is the lower room of a 2-story porch. The porch is on the floor above it. The porch has a wood floor which is not a roof so drainage issues came into play. Water could drip between floor boards and get to the ceiling below. We used vinyl fabric on this ceiling so water can filter through. The owners can put a hose on the ceiling to wash the fabric off.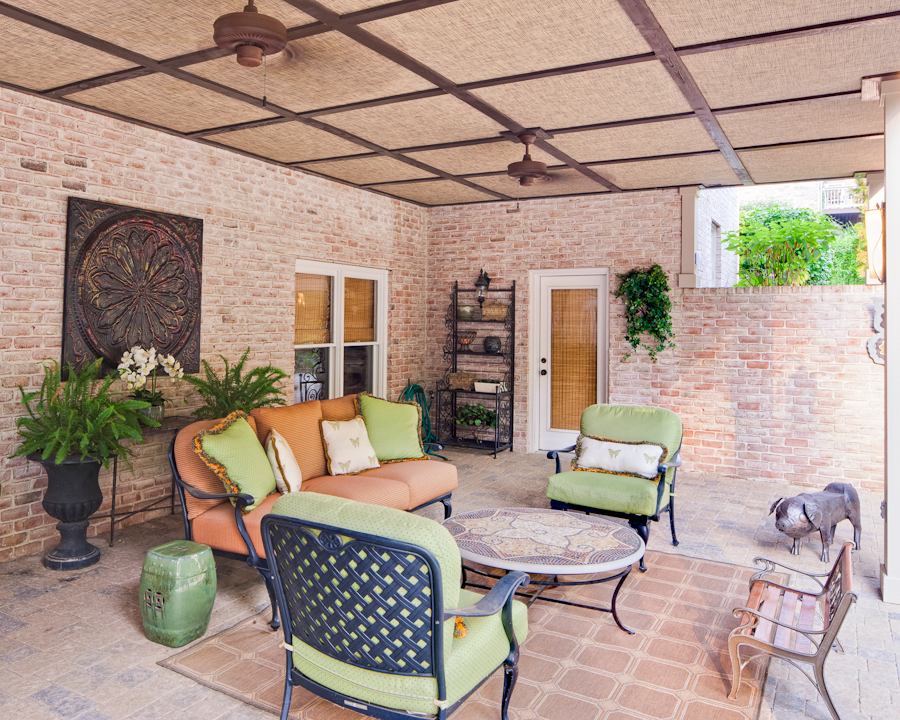 Ceiling 9:
This is a painted exposed rafter ceiling. You'll notice that the track lights are pointing up which provides light for the room by illuminating the ceiling and allowing that light to trickle back down into the room. This is a signature of the porch company. You will also notice the stain on collar ties which is done for visual interest.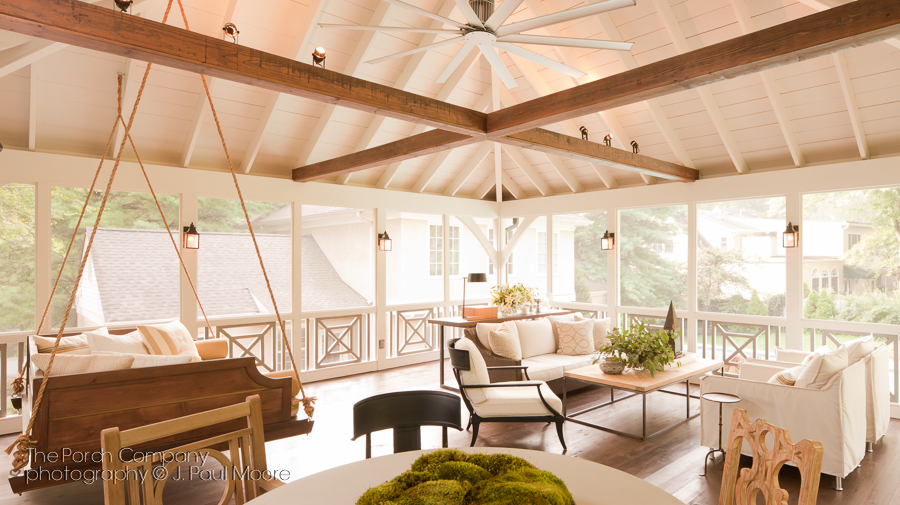 Ceiling 10:
This is an under storage area for a 2-story porch. The PVC boards are nailed to the bottom of the floor joists with slight gap between and a screen behind it so bugs can't get up and live between the floor joists. Water can come right through and won't hurt the ceiling.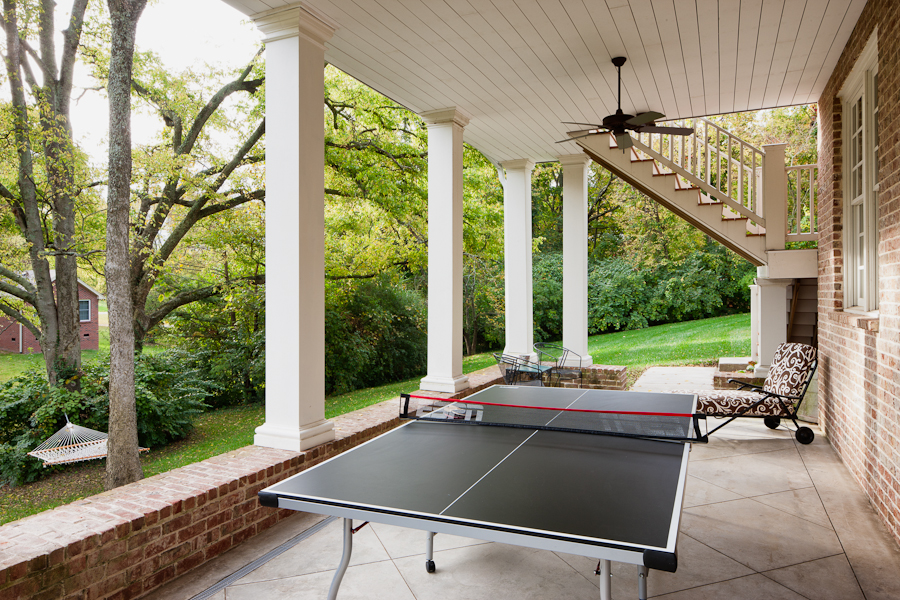 Ceiling 11:
This is an enclosed rafter flat ceiling with false beams for decoration. We put the skylights in the center for aesthetics.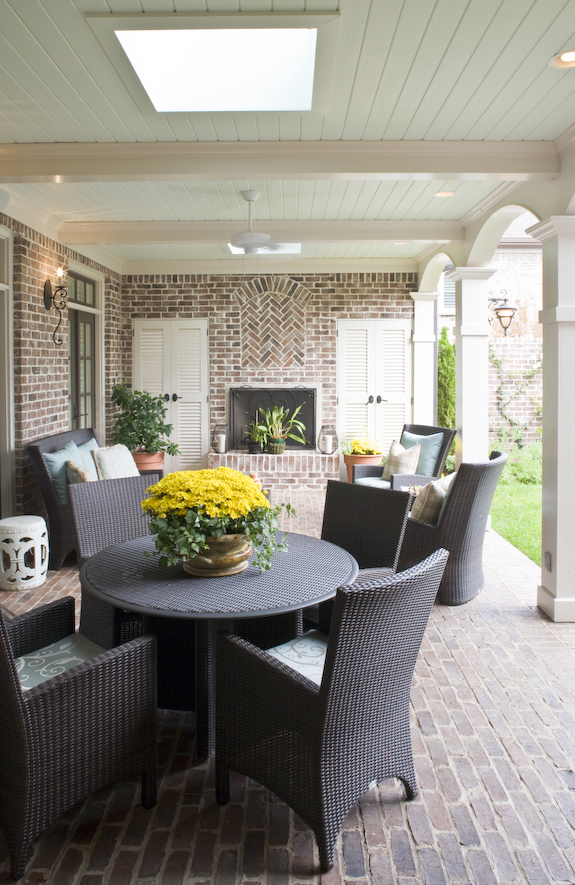 Ceiling 12:
This hip roof is done with timbers as opposed to dimensional lumber. These timbers are 4 inches wide so they're more substantial. This is what a timber framed hip roof looks like.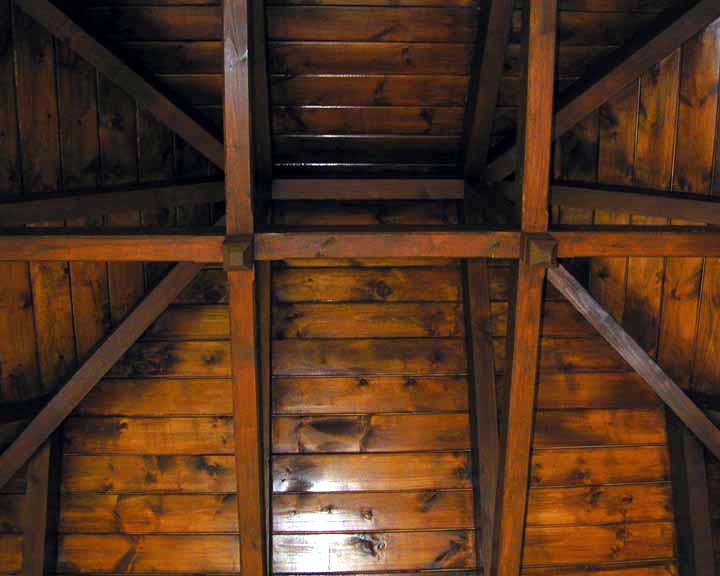 Ceiling 13:
Our last ceiling picture is a flat ceiling. Instead of using beadboard we used fine grade plywood and lathe strips over seams.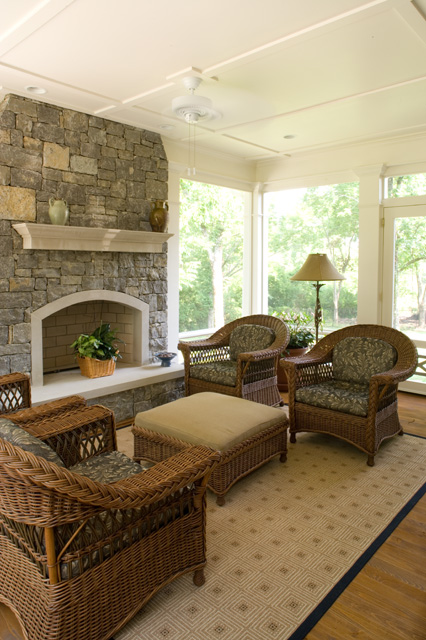 If you're considering adding a screened porch to your Nashville area home, give us a call for a free design consultation at 615-662-2886. We look forward to your call.

Nancy founded The Porch Company in 1992. She continues to design porches and lead her hardworking team.
Comments are closed