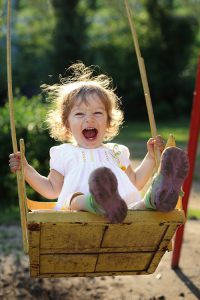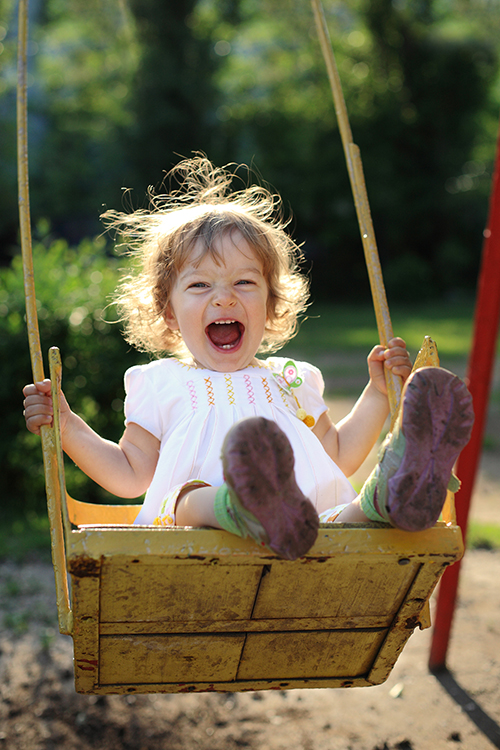 Do you remember that small piece of wood with 2 attached strings hanging from some bar or limb overhead? Nobody teaches a child how to swing. Perhaps parents or siblings give a few pushes but then the rhythmic gentle leaning, pulling your legs to the sun and dropping them back underneath to make the swing rise even higher. You often felt the swingset itself rise and fall as if your swinging would tear it from the concrete footings but nothing mattered. You kept swinging. Do you remember being reckless and swinging side to side until you became entangled with a friend or with the swingset pole? Do you remember getting your swing as high as you possibly could before jumping off from several feet in the air? We could go on and on. Perhaps, subliminally, that was part of the early inspiration of our porch swing line. Although a few, ahem, years older my vision might tend more toward the delightful proposition of sidling onto a comfy mattress, drawing pillows all around and allowing that gentle rocking to induce a delightful afternoon coma!
When we started building porch swings to sell online, we envisioned bed swings with an elegant sensibility that would be built with the steady and sure hand of a seasoned craftsman. Our initial line was everything we hoped it would be! The designs were clean and classic. Manufacturing large orders of swings proved to embody and maintain every bit of the quality as when made in small batches of onesies or twosies. The demand for our porch swings grew. We made small changes such as improving the cushion in the mattress and all was good.
In 2013, my mother-in-law was ready to throw in the towel on her more than 100-year-old barn in rural Tennessee. Something told her we might just have a use for the old barn wood. Although not certain how we would use the barn's old timbers and boards, we at least wanted to help with the task of gently laying the tired structure to rest. We brought the wood back to our Porch Store workshop and stacked it neatly wondering if it would see the light of another day.  That old wood had seen one hundred years of Tennessee history. It had been the coveted spot for many a hide-and-seek winner. It likely even saw one or two first kisses before its next task begun.
Under the deft hand of our woodcraft team, our barnwood swings were born. The boards were scraped, scrubbed, oiled and made as smooth as possible without losing the rugged character of the century-old trees that gave life and limb for our old barn. Sorry, I couldn't resist this dramatically stated truth. Not too
long after, we introduced a teak version of our porch swings. Although completely different than either our existing pine or barnwood swings, it has a character, strength and authenticity that support its own space in the line.
Psst. Don't tell. You are the first to get a sneak preview of what's next!
Over the last couple years, our customers have shared great ways they have used their bed swings. Indeed many of our swings now grace interior rooms including bedrooms, dens and even sitting rooms or sleeping porches at vacation homes. What a terrific way to gently rock to and fro while catching up with a family member you haven't seen for a while. The added benefit is that your vacation home or condo now sleeps another person!
As we've talked to Porch Store customers, some have asked about swings in different colors. What a fabulous idea and you are seeing one of the first ones! As you know, we use PVC for many of our Porch Store products including railings and gates. PVC is a wonderful material because of the way it can be custom cut in intricate patterns and then suitable for use outdoors. It is low maintenance so it will not warp, crack, cup or splinter. It will not fade or change color. Speaking of color, check this out. If this beautiful salmon shade isn't your favorite, choose literally any color you want and we will paint it for you! Keep watching our blog and Porch Store website. Have a favorite Sherwin Williams shade in mind? Grab the color swatch and get ready to order your new customized cheerily colored family treasure.