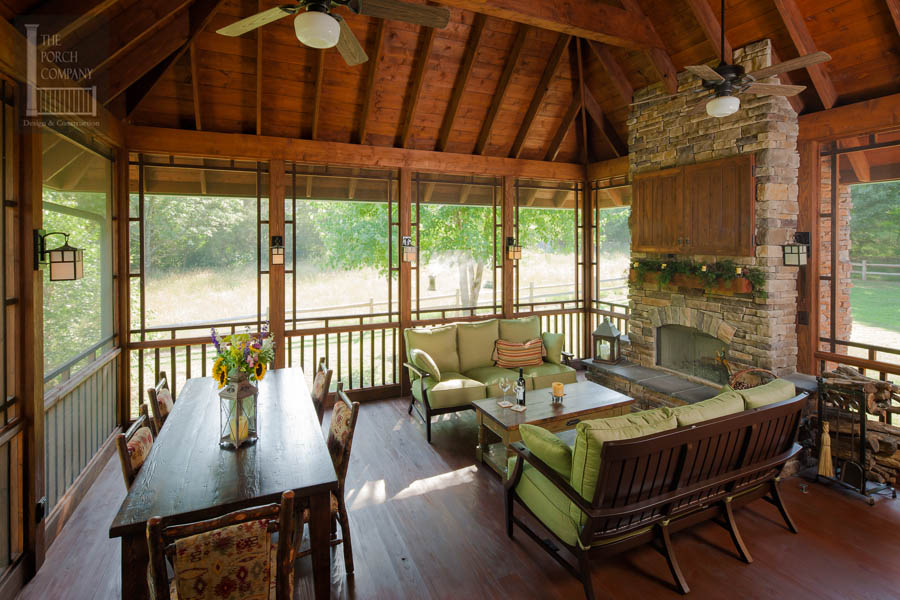 Comments are closed
Featured on Houzz
Customer Testimonials
From our first meeting Nancy took our ideas and ran with them and made our dream a reality. It was a pleasure to work with the construction crews and they were always courteous of our family and respectful of our home. We have built homes and had other building projects in the past and we have never had one go as smoothly and turn out as beautifully as this one. The Porch Company was the only company I would ever want to build for me.
Pam
My dealings with The Porch Company were exceptional. They delivered everything about the project in a timely, responsive manner. They are exceptional professionals. Kim was superb and very professional! I will use them again and recommend The Porch Company to friends & neighbors! Thank you!!!
Reggie
I have never experienced a smoother or more excellent renovation / building project! I love my porch and I so appreciate the talent of every team member who helped to create it! You are truly magnificent!
Marilyn
Do you ever go thru spells where you feel you just can't get anybody to do anything, no matter how much you pay them? Well, doing business with the Porch Company will restore your faith in mankind and in the concept that some people will do what they say they will do, when they said they would do it. And BEAUTIFULLY. Having my screened porch built is the best thing I've ever done, (to my house), and I can't say enough good things about the Porch Company. I just wonder where they find such talented, sweet people to work for them. I mean, I know they're out there of course, but they seem to have a corner on the market. I was actually sad when the carpenters finished and left, they were so nice. And my porch? …A work of art. Seriously. I always wanted a screened porch, but I never dreamed it would be this neat. Nancy did such a beautiful job designing it, and no detail is left un-thought-of. If you want to add something to your home that will make it better place to live, add value, and actually be a happy experience WHILE IT'S BEING BUILT, call The Porch Company. You cannot go wrong.
Dorthy
Filling in X's on a form can no way tell you how magnificent and beautiful my front porch will be for a very long time. Most of all you gave me the opportunity to meet the most wonderful people, I will never forget. At our first meeting you reminded me of myself and how I wanted my clients to feel I was their friend first and that they did not have to worry about their project because I took pride in my company and the associates that worked for me. Each morning (very early Ha) when I heard Chuck and Bobby arrive, I would get up to open the front door so they could plug their extension cord into new wiring. I was greeted by a most handsome guy with a million dollar smile. Not once but every day. Please say, 'Thank You Chuck' because you made my day brighter… 'Thank You Bobby' from someone like everyone else who thinks you two are very special.
Shirley
Recent Posts

FROM SMALL DECK TO SPACIOUS SCREENED PORCH, THE PORCH COMPANY ...
by
Nancy Moore
September 28, 2018