Description
Product Description
Whether you want a two or a four point hanging system for your bed is up to you! If you prefer a forward swinging motion, the two point system is for you. If you prefer more of a gliding / floating sensation, go with the four point system. The four point system also allows you a little leeway in terms of space, giving you the option to place the bed a bit closer to the wall. Please be aware that both rope systems have chain at the top of the rope to allow for slight adjustability.

Select the length of your custom-made Manila rope with carabineers to hang your swing bed. Hooks for hanging (either two hooks or four hooks) are not provided and must be installed by purchaser. You are responsible for ensuring the hooks in the ceiling are strong enough to support the necessary weight. Ropes are custom made to fit your selected height, and will be shipped to you securely wrapped with twine at both ends and with attached carabineers. Give us the distance from the floor to the hanging hook, and we'll figure out the length of the rope so your swing hangs at the right height. Simply hook the "S" hooks to to your eye bolts in the ceiling and to your swing bed at the bottom and…voila! It hangs!
Note:  our rope kits are for The Porch Store's swing bed only. These ropes are not adjustable and are designed to work with our beds.
Please use the diagram below to determine your rope length: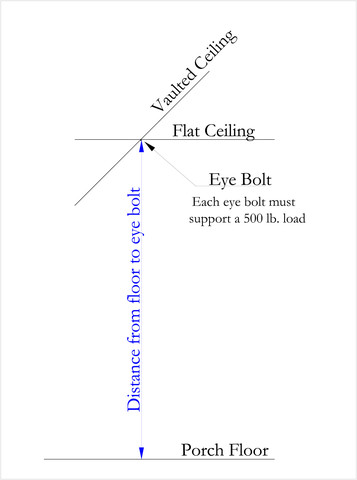 Please note that these swings have metal components that are not coated for saltwater environments.
Product Inquiry
Returns & Delivery
Returns and Exchanges
None of our items, unless damaged upon arrival, are eligible for reimbursement.
If items are damaged upon arrival, please make note to the shipper, and contact us immediately for further instruction.
You have 30 calendar days to return an item (if damaged) from the date you received it. 
Please ensure that the item you are returning is packaged with all elements.
Ship your item back to Us
Firstly Print and return this Returns Form to:
The Porch Company
attn: Returns
6115 Vernon Ave
Nashville TN 37209-1229
For more information, view contact us at porchstore@porchco.com .