Before Aretha Franklin sang R-E-S-P-E-C-T, the Bible said, "Show respect for all people." 1 Peter 2:17
Here at The Porch Company we have been reflecting on respect and what it means to each of us. Today we are sharing those reflections with you, our friends and customers. We hope the spirit of respectfulness resonates with you during this beautiful holiday season.
Each year The Porch Company creates a unique holiday card to share with you and each other. We put a great deal of thought into choosing our theme for the year and sharing what it means to each of us as individuals. We always look forward to this annual tradition, and we know many of you do as well. Our theme this year is Respect.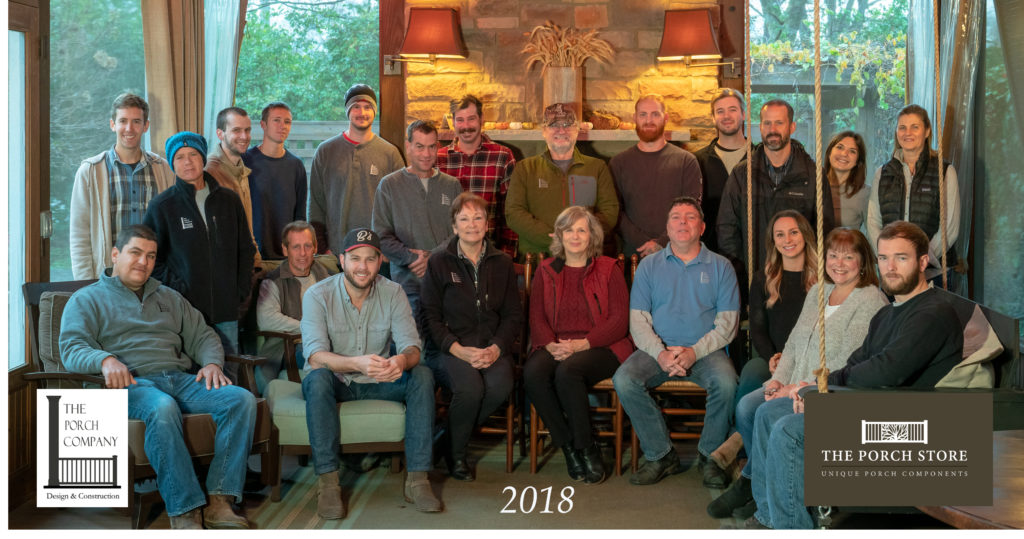 On the front of our Christmas card, our smiling faces greet you. There you see our team. I wrote recently about The Porch Company family and how grateful I am for each one of these souls. Together they make our company what it is on a daily basis. When you see our group portrait here, you see faces full of love and respect.
Opening the card, you will see a Bible verse that speaks to our theme. Inside the card, each team member has something to share with you about Respect. Some people speak from the heart in their own words, and some share quotes that expresses what respect means to them – also from the heart.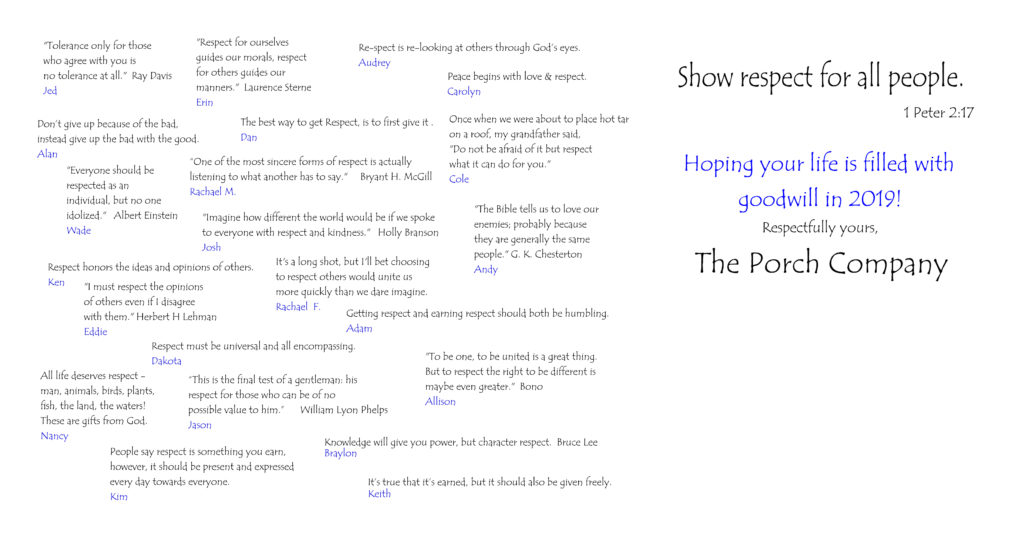 We selected Respect as our theme this year in response to the bitterness and disrespect we see around us every day. We choose to use this moment as a chance to take pause and send a heart-level message of respect. Respect for others. Respect for those who do not hold the same beliefs or opinions we do. We want to foster respect for who they are and for those differences.
Even when we don't agree with someone, we can respect them by listening to what they have to say respectfully. This reminds us of the Golden Rule, Do unto others as you would have done unto you. That is how we show respect.
Being respectful is so important, now more than ever before. Disrespect only spawns more disrespect and spreads like a virus. Respect can spread, too. Showing respect creates a domino effect of respectfulness. We all have struggles, and no else one knows the shoes we walk in day-to-day. Do unto others as you would have done unto you. Respect.
So we hope you accept our gift in the spirit in which we offer it. Read our individual messages and let them inspire you as you inspire others.
Jed offers a quote from Ray Davis: "Tolerance only for those who agree with you is no tolerance at all."
Erin offers a quote from Laurence Sterne: "Respect for ourselves guides our morals, respect for others guides our manners."
Audrey says, "Re-spect is re-looking at others through God's eyes."
Carolyn says, "Peace begins with love and respect."
Alan says, "Don't give up because of the bad, instead give up the bad with the good."
Dan says, "The best way to get Respect, is to first give it."
Cole says, "Once when we were about to place hot tar on a roof, my grandfather said, 'Do not be afraid of it but respect what it can do for you.' "
Wade offers a quote from Albert Einstein: "Everyone should be respected as an individual, but no one idolized."
Rachael M. offers a quote from Bryant H. McGill: "One of the most sincere forms of respect is actually listening to what another has to say."
Josh offers a quote from Holly Branson: "Imagine how different the world would be if we spoke to everyone with respect and kindness."
Andy offers a quote from G. K. Chesterton: "The Bible tells us to love our enemies; probably because they are generally the same people."
Ken says, "Respect honors the ideas and opinions of others."
Rachael F. says, "It's a long shot, but I'll bet choosing to respect others would unite us more quickly than we dare imagine."
Eddie offers a quote from Herbert H. Lehman: "I must respect the opinions of others even if I disagree with them."
Adam says, "Getting respect and earning respect should both be humbling."
Dakota says, "Respect must universal and all encompassing."
Nancy says, "All life deserves respect – man, animals, birds, plants, fish, the land, the waters! These are gifts from God."
Jason offers a quote from William Lyon Phelps: "This is the final test of a gentleman: his respect for those who can be of no possible value to him."
Allison offers a quote from Bono: "To be one, to be united is a great thing. But to respect the right to be different is maybe even greater."
Kim says, "People say respect is something you earn, however, it should be present and expressed every day towards everyone. "
Braylon offers a quote from Bruce Lee: "Knowledge will give you power, but character respect."
Keith says, "It's true that it's earned, but it should also be given freely."
As 2018 draws to a close, we want to thank you for your business. We love you! The Porch Company wishes every one of you a Merry Christmas, Season's Greetings, Happy Holidays, Happy Hanukkah and Happy Kwanzaa. Blessings of peace and respect to you and your loved ones.