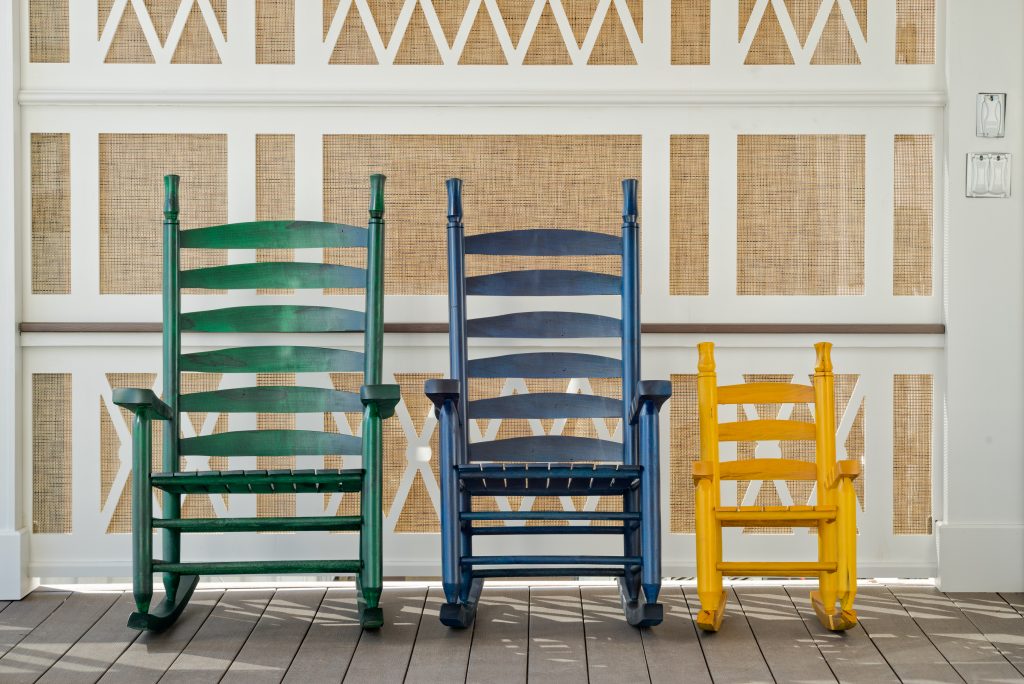 A VIEW FROM THE PORCH: USING COLOR EFFECTIVELY
Color is a powerful design element that can customize and personalize your space. Some people are afraid of using it, and some use color effectively, while others use it without awareness. How do you feel about using color in your home? Could you incorporate a little more color into your surroundings to invite, enliven, calm or refresh? Follow me for a journey through color.
Color is a science and an art, and color theory is a subject far beyond the scope of this website. To dip in at the surface level, warm colors — reds, oranges, yellows — reflect passion, happiness, enthusiasm and energy. Cool colors — shades of green, blue and purple — are usually calming and relaxing, but bright blues can also be energizing and refreshing. Color can be subjective depending on culture, prior association and personal preference.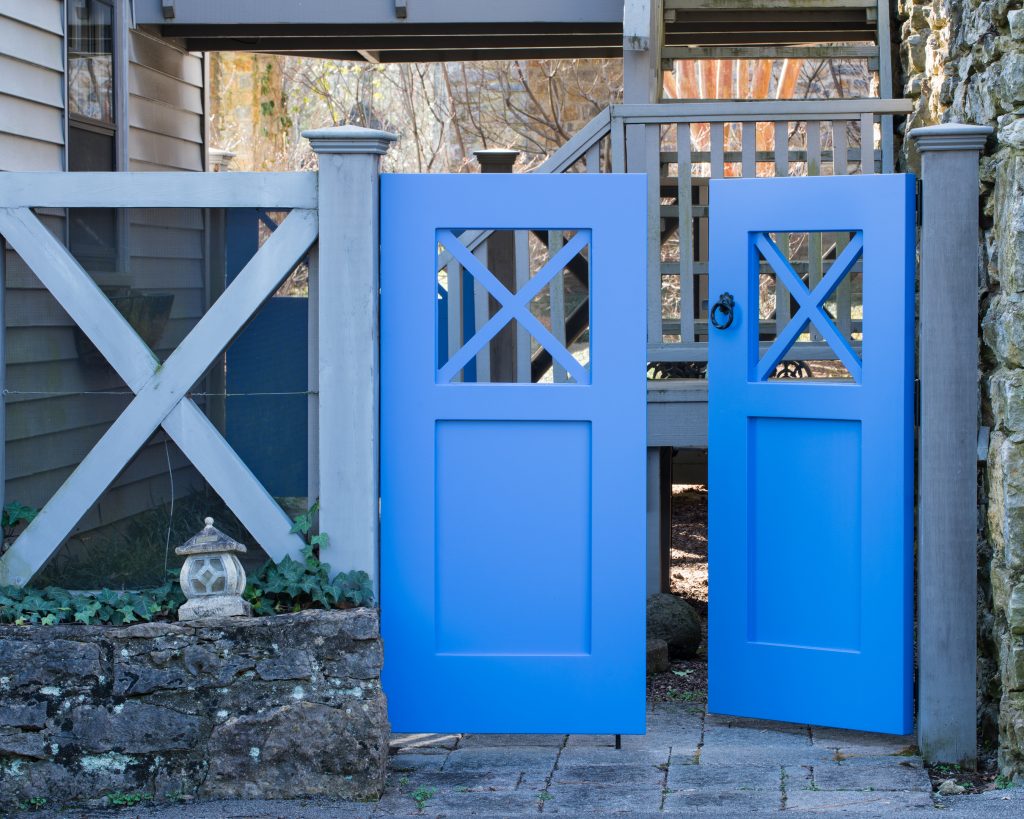 Just for fun:
Red: Passion, love, anger
Orange: Energy, happiness, vitality
Yellow: Happiness, hope, cheer
Green: New beginnings, abundance, nature
Blue: Calm, relaxing, responsible
Purple: Creativity, royalty, wealth
Because we are The Porch Company, I want to focus on the use of color in and around porches and gates. Yes, gates. More about those later!
When you think about porches, either open porches or screened porches, color may not immediately come to mind. The structures themselves are usually not colorful — although they certainly could be. The first and most obvious place to use color on a porch is as an accent color, perhaps a bright throw pillow on a neutral-colored chair or porch swing. That's a good start.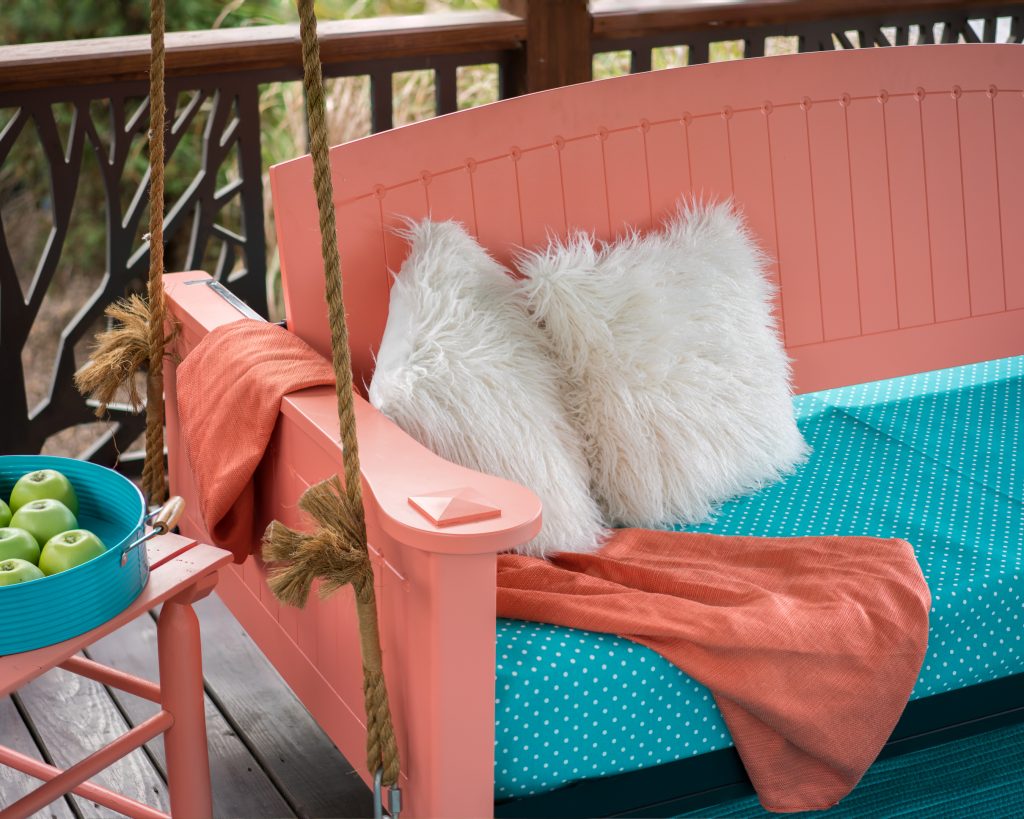 Let's take it further now. Here are some bolder possibilities:
Paint the porch swing. Let the swing itself — or even better, a bed swing — make a bold, colorful statement.
Paint the bed swing AND then accent that with a bright mattress cover, bolsters and pillows in contrasting colors.
Let the porch door beckon colorfully as is stands out against the neutral shades of a natural wood door frame.
About the bed swing: these combine the appeal of a porch swing with the advantages of a day bed. They're so much fun and provide a comfortable place to relax and read a good book. We sell bed swings on The Porch Store website and ship anywhere in the U.S. If you haven't seen these before, the salmon-colored bed swing pictured here will show you how fabulous they are — especially for the use of color on your porch.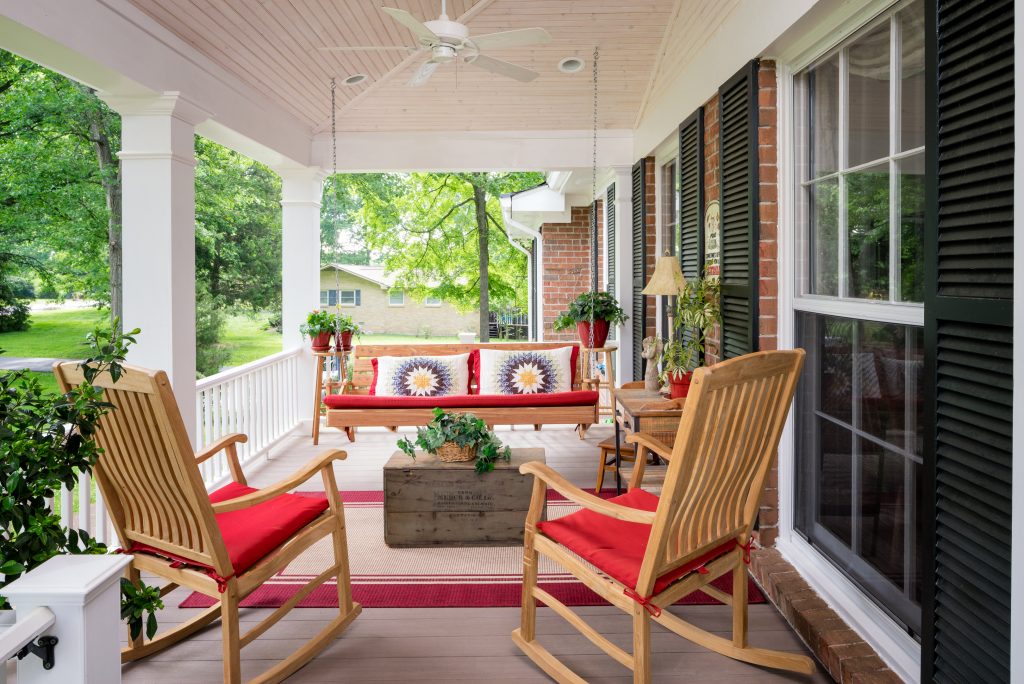 We make bed swings out of pine, teak, barn wood or PVC. The solid cellular PVC that we use is more durable than wood and takes paint beautifully. Just give us a Sherwin Williams color number and we'll paint it for you! We also offer the bed swing mattress, bolsters and pillow shams through The Porch Store. We use a fabric that will not mildew or mold; it's specifically made for outdoor use.
Front door or screen door?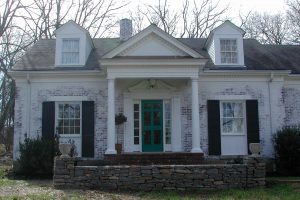 We can suggest using a porch door as your burst of color in two different ways. First, if you have an open porch such as a front porch, you likely have a front door that's visible from the street. That brings us to a special topic: curb appeal. A front door that's painted to contrast or complement the color palette of your home's exterior is a sophisticated way to invite friends and family into your home. It says, "Welcome! Come on in! Warmth and friendship are spoken here."  Don't worry about trying to match your front door color to your home's shutters or trim. When you think about color for the front door, you have total creative freedom.
The second way we suggest using a porch door for color applies if you have a screened porch. Paint the screen door! It may sound unconventional, but just look at this stunning example. The bright, warm coral color of the screen door stands out against the dark frame of the porch and the beams, railings and panels. Have some fun with it! Many of the items you see here are for sale on our website including the double screen doors, the railings and the branches panel. A colorful door will stand out equally well against white woodwork and white PVC railings and panels.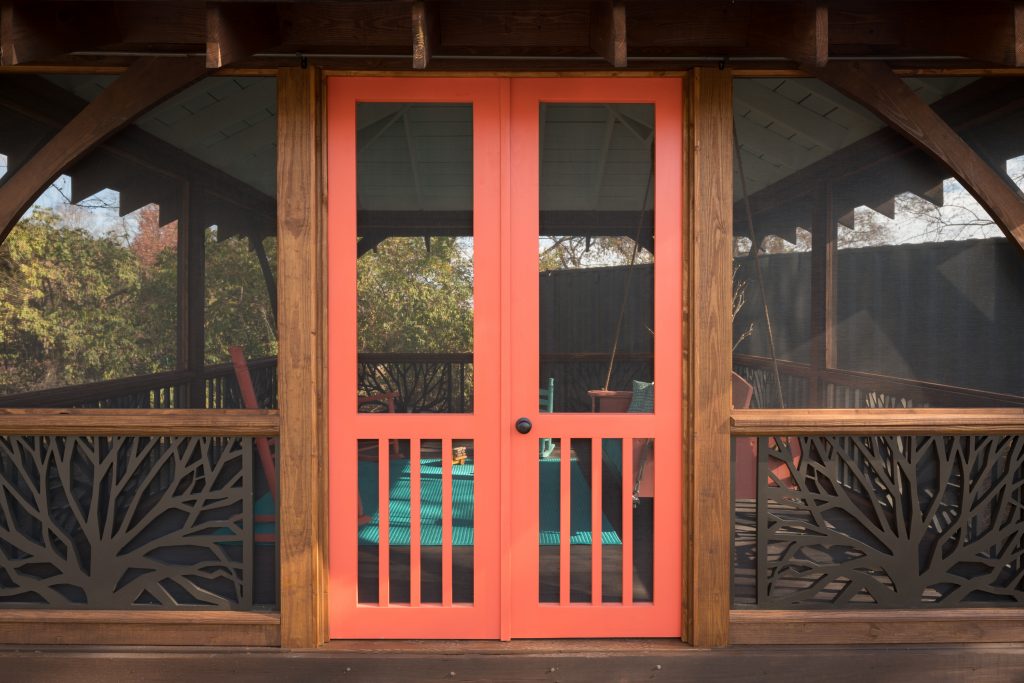 What color is your gate?
Not every home has a gate, but if yours does, try picturing it as a bright spot in your yard or entryway.  The images here can serve as inspiration. We sell several different gates on The Porch Store website, and we can also custom design a gate to fit the opening in your fence whether you're starting from scratch or replacing an existing gate. We make our gates from PVC. They are easy to maintain and will never sag, fall apart, rot, etc., as a traditional wooden gate will eventually, or rust like a metal gate can. As with our bed swings, if you order a gate from The Porch Store we can paint it any color you choose. Just provide us with a color swatch or number from Sherwin Williams.
If you're interested in adding a porch or gate to your home in the Nashville area, give us a call for a free consultation at 615-662-2886. We'd love to help you select colors to brighten your home and make a statement as well!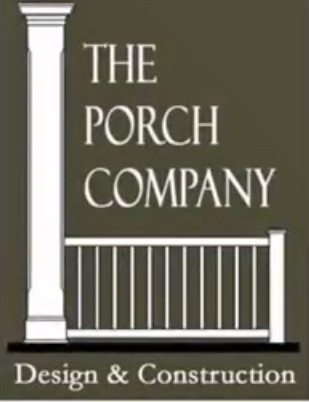 We also invite you to shop The Porch Store for any of the screen doors, bed swings, panels and gates you see here. We have other designs, too, and if you need something custom designed give us a call to inquire about it at 615-662-2886.